JOIN US FOR OUR 2021 MEETINGS
IN PERSON MEETING FEE: $10 for non-MUFON Members / $5 for MUFON Members (please bring your MUFON membership card)
MEETING TIME: 2:30pm

During our "GOVERNMENT LOCKUP" of the American Mind Controlled "Pod People", our online price per meeting is based upon membership rates. Current "online" meeting rate is $3.50 per month.

MAY 1, 2021 - ONLINE MEETING - BRUCE CORNET, PhD: "Who's Technology is This?" Wallkill River Valley Exoctic Unconventional Flying Craft
Dr. Ellen Crystall did an extensive ten year study of this phenomena in the area of Pine Bush, NY (northern Orange County), which she published in 1991 in her book "Silent Invasion." Her research extends sightings and paranormal activity 30-35 miles west of the activity documented by Hynek et al. (1986/1998) for the area north of New York City. It is Dr. Ellen Crystall's work and book that made "Pine Bush" a household name for those interested in UFO/UAPs.
Because of her book and willingness to educate others in the field, Dr. Bruce Cornet became involved in doing research with her and others. I subsequently conducted an eleven year field investigation in the Wallkill River Valley and Hudson River Valley (1992-2003), which included a five year, ground-based magnetic study of a 24 square mile area near Pine Bush, NY. This book documents 137 encounters with UAP/UFOs, captured on time exposures and video, which were many times witnessed by multiple people.
---
DR. BRUCE CORNET received a B.A. degree (1970) in biology from the University of Connecticut, a Masters degree (1972) in paleobotany from that same university, and graduated from Penn State in 1977 with a Ph.D. in geology and palynology (the study of fossil spores and pollen, used to age date rocks).
He spent 11 years in the oil industry, working for Gulf Research & Development, Exxon USA, Mobil Oil Corporation, and Superior Oil Company, all in Houston, TX. Between 1981 and 1982 he ran his own independent exploration company (Geminoil, Inc.), which drilled for and found oil in eastern Virginia. Between 1988 and 1993 he held a research position at Lamont-Doherty Earth Observatory (part of Columbia University), and was the wellsite geologist for that institute's Newark Basin Coring Project in New Jersey, for which he described and photographed 28,000 feet of Late Triassic to Early Jurassic cores. He is profiled on ResearchGate, and has published 48 scientific articles and research papers, three books, and numerous abstracts on subjects in paleobotany, palynology, and geology.
He taught classroom geology and botany, and online geology for Raritan Valley Community College in New Jersey, El Paso Community College in Texas, and Dona Ana Community College in New Mexico (2002-2008).
In 1992 he discovered that he lived next to the Pine Bush UFO hotspot in New York State, and began a three year, 24 square mile magnetic survey, discovering many anomalies underground and documenting over 140 close encounters with unconventional aircraft or UFOs. He has written one book on his research into the Pine Bush Phenomenon: Unconventional Aerial Phenomena in the Hudson and Wallkill River Valley of New York (2019).
In 2003 he was hired as Deputy Administrator at the National Institute for Discovery Science (NIDS) in Las Vegas four months before NIDS was shut down. He is now retired and living in El Paso, Texas.
SATURDAY, MAY 1, 2021
3:00pm PACIFIC ~ $3.50
PURCHASE YOUR
ZOOM TICKET BY 2:00pm PT
TO RECEIVE YOUR LINK TO THE
LIVE ZOOM PRESENTATION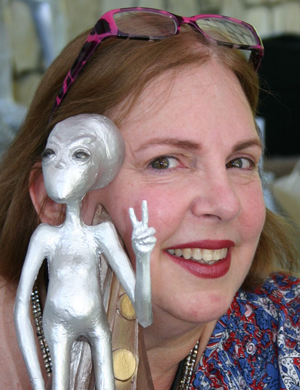 Lorien Fenton
Radio and TV Personailty
Join Lorien on Mondays on Revolution Radio – THE FENTON PERSPECTIVE 5pm PT / 8pm ET.