JOIN US FOR OUR NEXT 2019 MEETING
DECEMBER 7, 2019 - 9th Annual MUFON UFO Holiday Potluck Party & "Green Alien" Gfit Exchange
​POTLUCK DINNER STARTS AT 5pm
Everyone brings food to share and a "gift" so we can have some fun.
"Sign up sheet" to bring a "dish"

HERE
PLEASE NOTE: All food needs to be cooked and ready to eat. Please bring serving utensils. (The kitchen is not be available.)
Lorien will provide:
Turkey
Vegetarian "Turkey Loaf"
Cornbread & Regular Stuffing
Cranberry Jelly
Pumpkin Pies
Starbucks INSTANT Coffee / Hot water for Tea
Please bring your own drinks and tea bags  if not a coffee drinker.
'Green Alien' Gift Exchange!
YES! The wild, and now infamous, Green Alien Gift Exchange! Please bring a used gift that falls into the categories of: Aliens, UFO's, Consciousness, Conspiracy, Technology, etc. Please wrap your gift – if you can – so as to camouflage it, so the person who's picking the gift has a hard time figuring out what it might be.
EVENING SCHEDULE:
PLEASE TRY ARRIVE BETWEEN 4:30pm – 4:55pm
5:00pm – Dinner Begins… Sign up to bring a Dish to Share ABOVE
5:30pm – Special Guests tell you of their past year and what's up for next year
6:00pm – FEATURED PRESENTERS

7:30pm – Dessert
8:00pm 'Green Alien" Gift Exchange
PARTY TICKETS ARE $15

PLEASE PURCHASE YOUR TICKET(S) IN ADVANCE so Lorien can purchase the "Meat and Meatless" dishes, and other goodies, for the Party. The rent for the Senior Center comes out of this payment as well.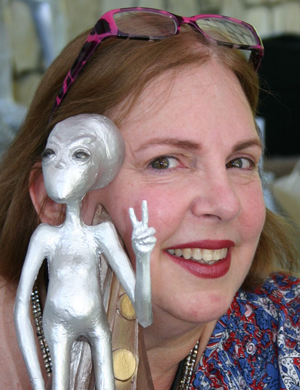 Lorien Fenton
Radio and TV Personailty
4 HOURS OF LIVE BROADCASTING! Listen to Lorien on Mondays on Revolution Radio – THE FENTON PERSPECTIVE at 5pm PT; and on KCOR on her new show The Fenton Files – at 8pm PT.