JOIN US FOR OUR 2021 MEETINGS
MEETING FEE: $10 for non-MUFON Members / $5 for MUFON Members (please bring your MUFON membership card)
MEETING TIME: 2:30pm

During our "GOVERNMENT LOCKUP" of the American Mind Controlled "Pod People", our online price per meeting is based upon membership rates.

JANUARY 2, 2021 - ONLINE MEETING - RUBEN URIARTE: "Northern California Airship Sightings of the 1800's"
A Special Presentation of Northern California specific "Airship" sightings from the 1800's. The information gathered for this presentation appears in this Roswell Books Publishing Company series "Cowboys and Aliens".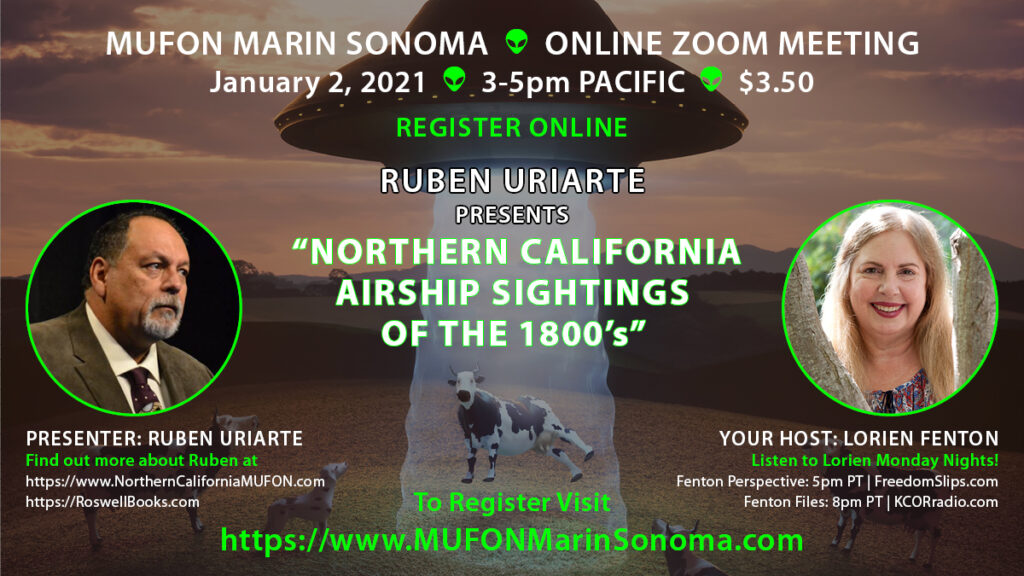 RUBEN URIARTE graduated from Cal State University at Hayward/East Bay with a B.A. degree in Psychology and Latin American Studies. Ruben is a member of MUFON (Mutual UFO Network) as a Field Investigator, State MUFON Director for Northern California and Deputy Director of Investigations/International Affairs. (See websites below.)
Ruben has been involved with a large network of research organizations. He had served as a California State Coordinator for Crop Circle Phenomena Research International. He was a former research director for Beyond Boundaries, a company specializing in taking tour groups to various UFO "hot spots" around the world. Ruben currently serves as a board member for OPUS (Organization for Paranormal and Support Understanding). (See website below.)
Ruben has been interviewed on many local and national radio shows and television documentaries on the subject of the UFO Phenomenon, such as the Discovery Channel's " UFOs Over Earth," The Learning Channel's "Monster Hunters," the History Channel's "UFO Files," "UFO Hunters," "Ancient Aliens," the Travel Channel's "How UFOs Crashed My Vacation" and the Discovery Science Channel "Unexplained Files."
Ruben has authored a number of books, co-written with Texas UFO researcher Noe Torres about major UFO crashes and other historical cases that have occurred along the border of the Southwestern United States and Mexico.
Their books include: Mexico's Roswell (1st & 2nd Edition), The Other Roswell, Aliens in the Forest, The Coyame Incident and Falling Angel. Ruben worked as a contributor/translator with Noe Torres on their recent book project, UFOs Over Mexico – Encounters With Unidentified Aerial Phenomena with authors Carlos Guzman and Alfonzo Salazar. (See website below.).
WEBSITES:
www.opusnetwork.org
www.MUFON.com
www.NorthernCaliforniaMUFON.com
www.RoswellBooks.com
SATURDAY, JANUARY 2, 2021
3-5pm PACIFIC ~ $3.50
Your ZOOM LINK will be EMAILED by 2:00pm Saturday
Stay on call for our AFTER MEETING from 5pm-6pm
PURCHASE YOUR ZOOM TICKET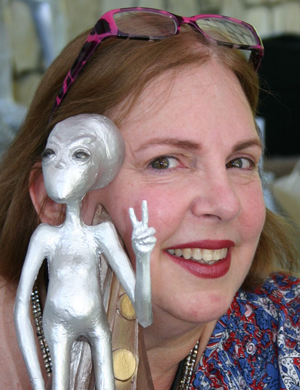 Lorien Fenton
Radio and TV Personailty
4 HOURS OF LIVE BROADCASTING! Listen to Lorien on Mondays on Revolution Radio – THE FENTON PERSPECTIVE at 5pm PT; and on KCOR on her new show The Fenton Files – at 8pm PT.