JOIN US FOR OUR NEXT 2019 MEETING
AUGUST 3, 2019 - RUSS KELLETT (via SKYPE from UK) "MY LIFE As One of The First Super Soldiers & Experiencers to Come Forward"
Russ Kellett is an original Super Soldier; one of the first – before it was popular! Russ is currently being censored by the "ones" telling you they want to know the TRUTH (except Lorien, of course!).
He has many years of research and investigations into the UFO and Alien abductions subject. As most contactees do, Russ started out looking for answers into his own abduction and missing time.
Russ has built an enviable reputation for his diligence, years of experience, and straight forward talk – no BS coming from this guy. He has collected some of the best video evidence along with an archive of UFO reports going back to the 1950's and original photos to go with them.
He has been in in the media's eye for almost 30 years. Russ has had numerous articles written about him in papers such as the SUN Daily News and the Mirror News; not to mention popular magazines on the UFO subject.
Russ is fondly know as "The UFO Guru and ET Motorcycle Rider" in the UK where he lives.
DON'T MISS THIS AMAZING INTERVIEW WHERE RUSS WILL "EXPOSE THE TRUTH" REGARDING ALIENS AND HUMANS.
SEPTEMBER 7, 2019 - NO MEETING: Lorien will be at "International UFO Congress"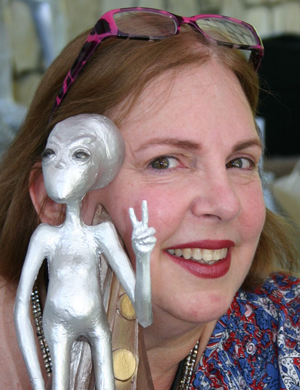 Lorien Fenton
Radio and TV Personailty
4 HOURS OF LIVE BROADCASTING! Listen to Lorien on Mondays on Revolution Radio – THE FENTON PERSPECTIVE at 5pm PT; and on KCOR on her new show The Fenton Files – at 8pm PT.