JOIN US FOR OUR 2020 MEETINGS
MEETING FEE: $10 for non-MUFON Members / $5 for MUFON Members (please bring your MUFON membership card)
MEETING TIME: 2:30pm

During our "GOVERNMENT LOCKUP" of the American Mind Controlled "Pod People", our online price is: $5.50 and meetings start at 3pm PT (unless otherwise noted)

JULY 11 , 2020 - 10th Annual MUFON "Speaker & UFO Skywatch"
Join Us ONLINE
"PLUTRONUS", NIGHT VISION SKYWATCH & "UFO ROUND TABLE" INTERVIEWS
With MATTHEW DEROUEN, TANA NEWBERRY, CHUCK POLOKA
Saturday, July 11th | 7:00pm | $5.50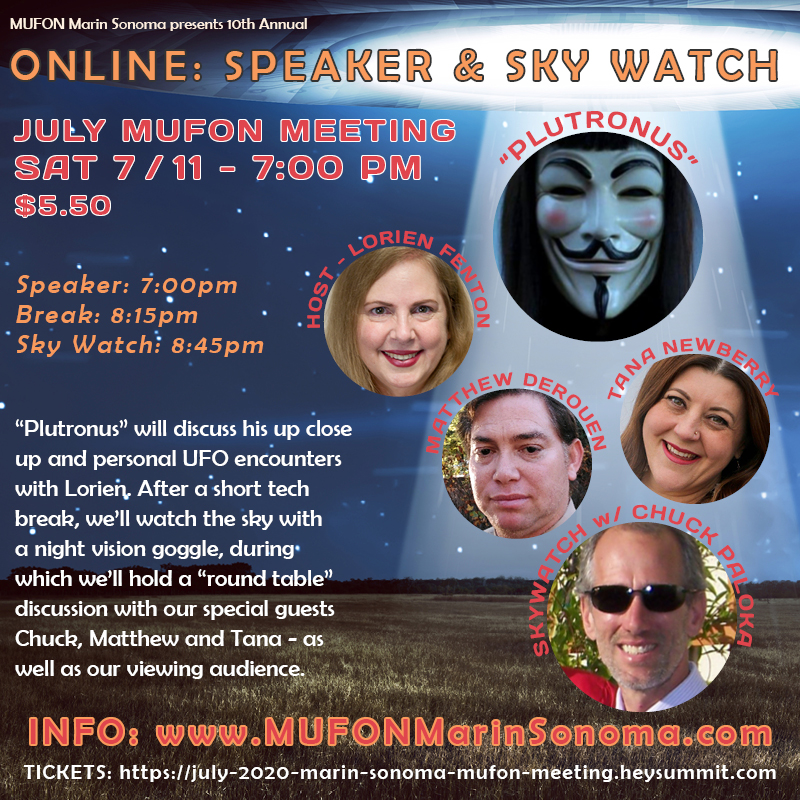 ---
"PLUTRONUS"

Our Man "Plutronus" is an "engineer" and has been a Defense Contractor for most of his working career. Contracts have been held with several different branches of the Armed Services, alphabet agencies, and privately held corporations developing top sercret technologies.
What makes "Tron" unique, is that he is a "major" contactee as well as a "geek". He's also the worlds leading expert on the Orb Phenomenon. In years past he was the organizer of a s secret group of scientist who studied the ET phenomenon with zeel, until a mysterious day when everything "fell apart"… and people died.
Tron has had many close encounters of the 5th and 6th kind, but will focus tonight on his UFO sightings, aboard craft adventures, and the information he was able to extract from his asigned Gray Alien.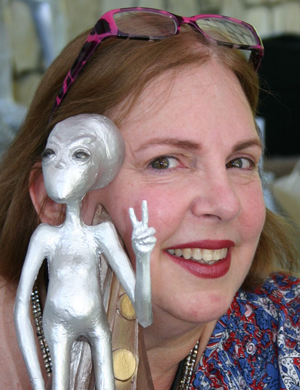 Lorien Fenton
Radio and TV Personailty
4 HOURS OF LIVE BROADCASTING! Listen to Lorien on Mondays on Revolution Radio – THE FENTON PERSPECTIVE at 5pm PT; and on KCOR on her new show The Fenton Files – at 8pm PT.