JOIN US FOR OUR NEXT 2019 MEETING
JUNE 2, 2019 - NO MEETING: Lorien will be at "Contact in the Desert"
JULY 13, 2019 - 9th ANNUAL BROWN BAG PICNIC AND UFO SKYWATCH
WHEN: Saturday, July 13th
WHERE: TBA
TIME: 5:30pm to 11:30pm
COST: TBA
SPEAKERS: TBA
"NIGHT VISION EVENT": With CHUCK POLOKA, DENNIS (our man of mystery) LORIEN FENTON and TANA NEWBERRY
WHAT TO BRING
A comfortable folding chair!
Jacket, Hat, Shoes and Socks for later in the evening in case you get cold (it will probably be quite pleasant after sunset, but you never know…)
Your "Brown Bag Dinner" AND utensils, napkins, condiments, etc.; everything you'll need to enjoy your dinner. Please bring a small garbage bag to load your trash into – we don't want the owners to know we were even there the next day.
Your favorite beverage.
Night Vision Goggles if you have them
AGENDA
5:30 pm: Arrive at TBA location, check-in, get set up and ready to eat.
6:00 pm: Enjoy our meals and chat.
7:00 pm: Speakers begin their presentations.
8:20 pm: Quickly clean area and move chairs to "Skywatch" area.
8:30 pm: Night Vision Skywatch.
11:00 pm: Pack up and say good byes.
DIRECTIONS: TBA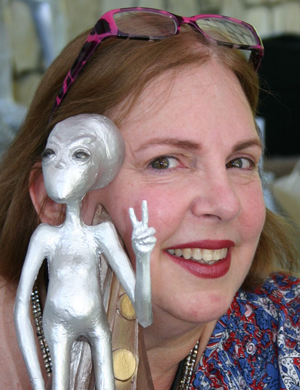 Lorien Fenton
Radio and TV Personailty
4 HOURS OF LIVE BROADCASTING! Listen to Lorien on Mondays on Revolution Radio – THE FENTON PERSPECTIVE at 5pm PT; and on KCOR on her new show The Fenton Files – at 8pm PT.