JOIN US FOR OUR 2020 MEETINGS
MEETING FEE: $10 for non-MUFON Members / $5 for MUFON Members (please bring your MUFON membership card)
MEETING TIME: 2:30pm

During our "GOVERNMENT LOCKUP" of the American Mind Controlled "Pod People", our online price is: $5.50 and meetings start at 3pm PT (unless otherwise noted)

AUGUST 1, 2020 - Tom Whitmore: MJ-12 - Unanswered Questions
Join Us ONLINE
Saturday, August 1, 2020 – 3pm PACIFIC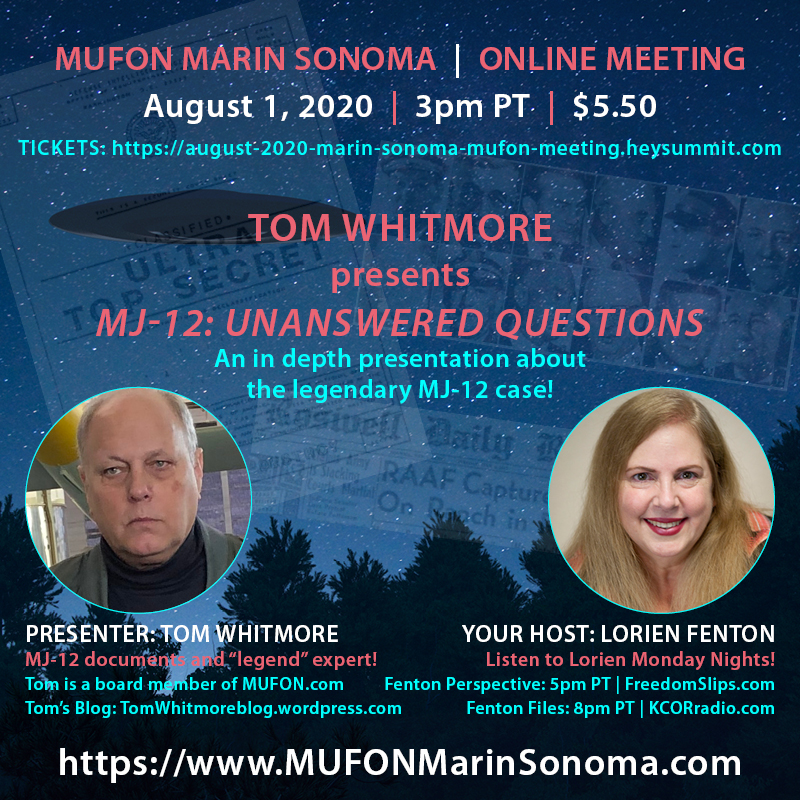 MJ-12 – UNANSWERED QUESTIONS
Tom's talk will address the history of the MJ-12 affair starting from the 1950s up to the present time. His presentation will touch on the players in the drama, as well as the claims, events, and trends over the many years of the controversy. The legend of the MJ-12 committee will be examined and will include how the factors of military, intelligence and government secrecy come into play. The lecture will conclude with the many unanswered questions regarding the subject of MJ-12.
As well as Tom's powerful presentation – packed with little known information about the MJ-12 legend – Tom and Lorien will also briefly discuss the "state of MUFON", as well as recent "Disclosure" events in the News and appearing on Social Media.
---
TOM WHITMORE
Tom has been Interested in UFOs since the 1960s. He became active in the UFO field in the early 1990s. Became a MUFON field investigator and state section director in San Antonio. He was invited onto the MUFON board of directors in 1995 and still serves.
In 2019 Tom retired from full time employment as a financial analyst and moved to Silver Spring, Maryland in September 2019 in order to be close to the National Archives, the Library of Congress and other resources in the Washington, DC area.
Tom has a special interest, and is considered one of a handful of experts on the history of the MJ-12 affair and the MJ-12 legend. Tom centered his focus on the 35 year history of questioned documents and the claims that have come into the public domain, as well as stories of UFO crash retrievals and government/agency involvement in the UFO community.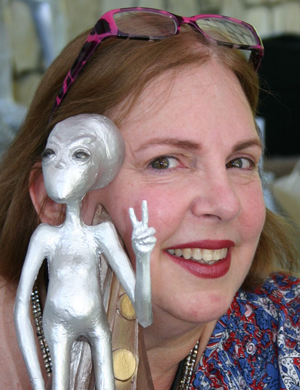 Lorien Fenton
Radio and TV Personailty
4 HOURS OF LIVE BROADCASTING! Listen to Lorien on Mondays on Revolution Radio – THE FENTON PERSPECTIVE at 5pm PT; and on KCOR on her new show The Fenton Files – at 8pm PT.