JOIN US FOR OUR 2020 MEETINGS
MEETING FEE: $10 for non-MUFON Members / $5 for MUFON Members (please bring your MUFON membership card)
MEETING TIME: 2:30pm

During our "GOVERNMENT LOCKUP" of the American Mind Controlled "Pod People", our online price is: $5.50 and meetings start at 3pm PT

MAY 2, 2020 - ONLINE MEETING - MELINDA LESLIE: Are You an ET Abductee?
Think you know about ET Abductions and whether you've had such an experience or not? Think again. In this unique interactive online workshop, Melinda will help guide you through exploring some little-known facts about just what it means to be an abductee. She'll help you understand the following questions along with if and how they apply to you:
Ever wondeted if ET abductions have happened to you? How would you know? And how can you be sure?
Do you question strange memories, unusual dreams, or unexplained marks on your body, and wondering if they may be related?
Do you know what the top 50 traits for abductees are? Do you know how many of them apply to you?
Do you know what the top 10 most reported ETs seen in experiences are?
Do you know what the top 10 most reported things that happen in an abduction are?
Do you know the top 10 steps to take once you discover you are an abductee?
Do you know the 10 best techniques for coping with or integrating your experiences?
Do you know what the top 10 types of evidence for abductions are? Have you had any of them?
After this workshop you'll know the answers to these questions and more. And most importantly, how these answers apply directly to you. Answers that help bring you clarity, understanding, and peace of mind. Answers that empower you.
---
MELINDA LESLIE is a UFO abductee and has been public with both her own extraterrestrial and covert-ops human abduction experiences (MILABS) for 28 years and is considered by many to be the authority on a military and intelligence agency involvement in UFO abduction cases. Her extensive abduction research and personal experiences have been featured in 25 books by prominent authors in ufology.
Melinda is an investigator in the field of Ufology with 30 years of experience and has researched individuals involved in it's "cover-up" for 28 years. For over 9 years she has been the Owner of UFO Sighting Tours in Sedona, Arizona, where she has conducted 1,200 tours with the use of military Night Vision Goggles. To date, Melinda's 8,500 plus tour clients have felt they always had true UFO sightings on every tour except one!
Ms. Leslie has lectured for numerous organizations including UFO CON, Contact in the Desert, the International UFO Congress, multiple MUFON chapters, the X-Conference, the Bay Area UFO Expo, The Whole Life Expo, and many more. She is a frequent guest on numerous radio shows including as a repeat guest on Coast-to-Coast AM and appeared on numerous television shows. Melinda is featured in the new documentary Extraordinary: The Seeding, available on YouTube at, and other pay-per-view formats.
Please check out her tour website at www.UFOSightingTours.com.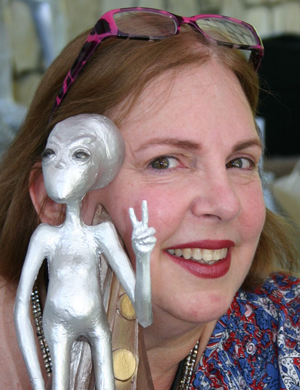 Lorien Fenton
Radio and TV Personailty
4 HOURS OF LIVE BROADCASTING! Listen to Lorien on Mondays on Revolution Radio – THE FENTON PERSPECTIVE at 5pm PT; and on KCOR on her new show The Fenton Files – at 8pm PT.