JOIN US FOR OUR 2021 MEETINGS
IN PERSON MEETING FEE: $10 for non-MUFON Members / $5 for MUFON Members (please bring your MUFON membership card)
MEETING TIME: 2:30pm

During our "GOVERNMENT LOCKUP" of the American Mind Controlled "Pod People", our online price per meeting is based upon membership rates. Current "online" meeting rate is $3.50 per month. Special Events (July Skywatch and December X-Mas Party) are different fees.

JULY 10, 2021 - 11th ANNUAL MUFON "BROWN BAG" PICNIC AND UFO SKYWATCH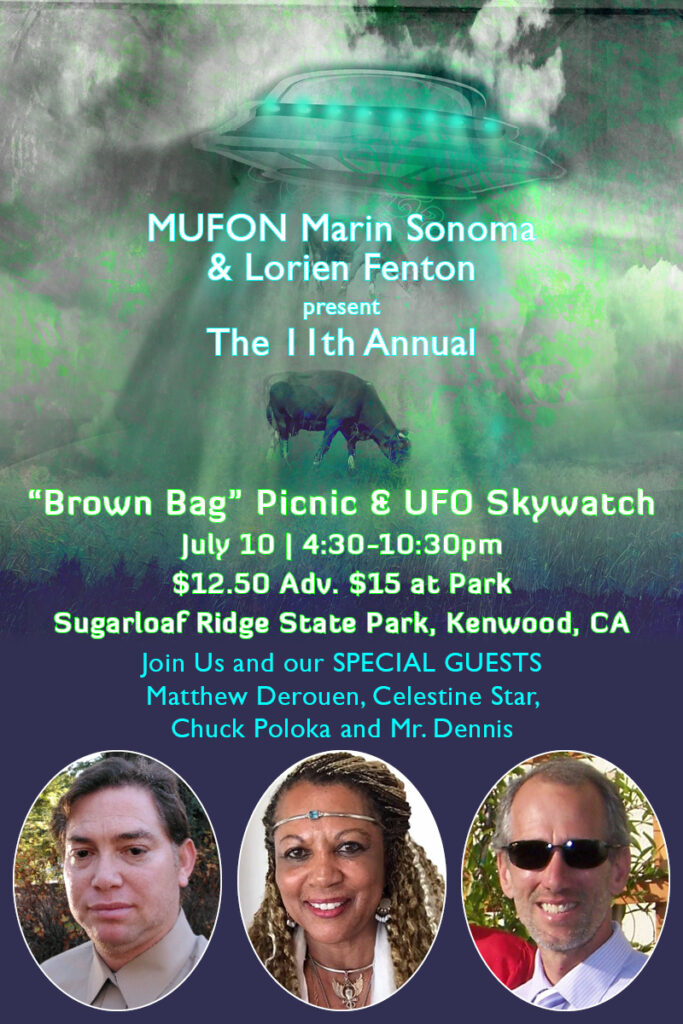 WHEN: Saturday, July 10th
WHERE: Sugarloaf Ridge State Park, Kenwood, CA
2605 Adobe Canyon Rd, Kenwood, CA 95452
( https://sugarloafpark.org )
Upper Group Day Use Area (see map below)
DOWNLOAD BROCHURE OF PARK HERE

TIME: 4:30 pm to 10:00 pm
COSTS:

— $12.50 Per Person IN ADVANCE THRU PAYPAL (below) OR $15.00 AT THE PARK. Please bring exact change.

— PLUS State Park PARKING FEE at $10 Adult/$8 Senior – Per Car – PAY WHEN ENTERING PARK. SUGGESTION: Carpool from a nearby shopping mall lot, carpool parking lot, etc. to save money.
IMPORTANT: After 4:30pm you'll need to go into the Vistor's Center to pay your parking fee.

PURCHASE YOUR TICKET
Sorry, but there are currently no tickets for sale. Please try again later.
SPEAKERS
LORIEN FENTON and DOUG HAWES will speak briefly.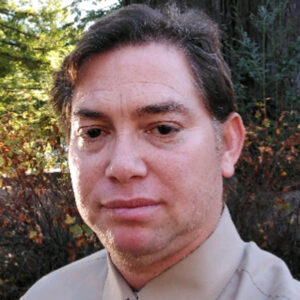 MATTHEW DEROUEN was born in New Iberia, Louisiana. He is a USL gradratuate in Economics and Broadcast, Peninsula Law school, low level software engineer, a Technology Consultant, owner of Galactix Studios, and Matlabs Technologies. Successful tech venture participation:
Getthere.com, the first online travel booking service.
Brience XSLT transformation server, Visto technical writer.
GET: Green Energy Technologies, bioseed to fuel think-tank.
Consultant to Private Mining Ventures in Myanmar.
Consultant to global food distribution technology firm in Australia and coffee cryptokey-based exchange.
Real estate investment and development.
Currently developing acoustic technology for Stratagracci 1, new form of cellphone, and security software for Matlabs.
And, he is a contactee…  Visit: MattLabs.website2.me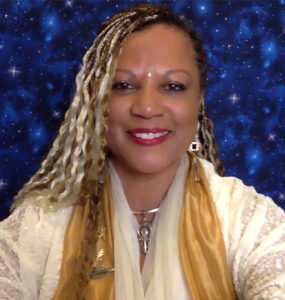 CELESTINE IISHA STAR, D.D. has been called a "Renaissance Woman" for our evolutionary times, possessing great knowledge, wisdom and expertise in many fields of endeavor. She has been a Celestial, Ultraterrestrial, and Extraterrestrial experiencer for over 60 years.
Star is an Ambassador to the High Spiritual Council and the Galactic Star Federation, Sacred Wisdom Keeper, Speaker, Grandmother, Author, Healer, Holistic Therapeutic Practitioner, Spiritual Leader, Event Producer, Visual Arts Designer, and Multimedia Documentarist and Archivist.
From 1985 to present Star has work directly with the High Spiritual Council, the Galactic Star Federation and the Star Confederation offering private Light Group Meetings that included Skywatch Ceremonies and assisting those who were ready the deeper processing of awakening to their divinity and galactic consciousness. Star spent time with "Immortals", as she calls them, in the deep forests of Northern California, where she received initiations and revelations. She was guided come down the mountain and return to society in order to share the wisdom and understandings humanity needs for the "Reintegration between the Earth Kin and Star Kin" process that is now happening on Earth.
In 2010, she created the Galactic Earth Council offering sacred "Skywatch" Circles for those who heard the "Clarion call" to come experience personal contact with our Ultraterrestrial Star Kin. Her work as an ambassador to the High Spiritual Council and Galactic Star Federation has safely opened the doorway to Galactic Wisdom for thousands of people. The Galactic Earth Council is going into their tenth year as some of the first humans to have continuous contact as a group with our Star Relatives. Star published her book "The Galactic Earth Council; Reintegration of Earth Kin and Star Kin" in 2019.
Star's life experiences in the world of metaphysics and her contacts with Ultraterrestrial Beings inspired her to open Enter Dimensional Light Services in 1987, where she held Light Group Meetings, private Skywatch, specialized events, lectures, workshops and presentations along with Celestial Activations, sacred ceremonies and private teachings. Participants learned about advanced UFOlogy, advanced science, consciousness evolving metaphysics, health, nutrition, relationships and emotional healing. Star's practice of over 40 years and life work has touched people from around the world fulfilling her mission in life to assist in the evolution of human consciousness on our planet and keep the Way sacred.
"SKYWATCH": With CHUCK POLOKA and MR. DENNIS (our man of mystery)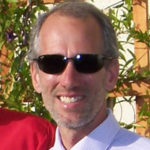 What better person to lead our Skywatch than CHUCK POLOKA who has a truly amazing account of having escaped death three times due to precognitive visions. His account of having encounters with extraterrestrials as a child is also captivating.
MR. DENNIS (not pictured) has had an equally strange exsistence. He has attended at 5 of our Skywatches as Chuck's partner in producing Night Vision TV for all of us to watch. He is also know as the "offical" spotter of UFO's in the sky.
WHAT TO BRING
A comfortable folding chair! There are picnic tables for eating dinner, BUT we will set up folding chairs for the skywatch in parking lot later in the evening so when dark no one has to stuggle on an uneven surface.
Sun Umbrella (might attach to picnic table? Your chair?).
Jacket, Hat, Shoes and Socks for later in the evening in case you get cold (it will probably be quite pleasant after sunset, but you never know…)
Your "Brown Bag Dinner" AND utensils, napkins, condiments, etc.; everything you'll need to enjoy your dinner. Please bring a small garbage bag to load your trash into – and then use park trash can or "carry it out" with you.
Your favorite beverage.
Night Vision Goggles or binoculars if you have them.
SCHEDULE
4:30 pm: Arrive at Day Group Area, check-in, get set up and ready to eat. (PLEASE PAY IN ADVANCE – or bring exact change of $15.)
5:00 pm: Enjoy our meals and chat.
5:30 pm: Speakers begin their presentations.
— 5:30-5:40 – Lorien Fenton – The June 25th Disclouse Documents
— 5:40-5:50 – Doug Hawes – His Contact experience
— 5:55-6:25 – Matthew Derouen – Updates on his contact and UFO Propulsion
— 6:30-7:15 – Celestine Star – TBA
— 7:20-8:20 – EXPERIENCER GROUP with Celestine Star
8:20 pm: Quickly clean area and pack up cars so leaving is "instant". Move chairs to "Skywatch" area – parking lot.
8:30 pm: Night Vision Skywatch with Chuck Poloka and Mr. Dennis.
10:00 pm: Pack up chairs and say good byes.
PLEASE NOTE: We have to be exiting the Park as close to 10:00pm as posible.
MEETUP AT DENNY'S: Caravan to the Baker Ave. Denny's Restaurant in Santa Rosa, CA. Fuel up on coffee for your drive home.


115 Baker Ave, Santa Rosa, CA 95407
MAP


DIRECTIONS
Double click for larger image.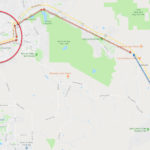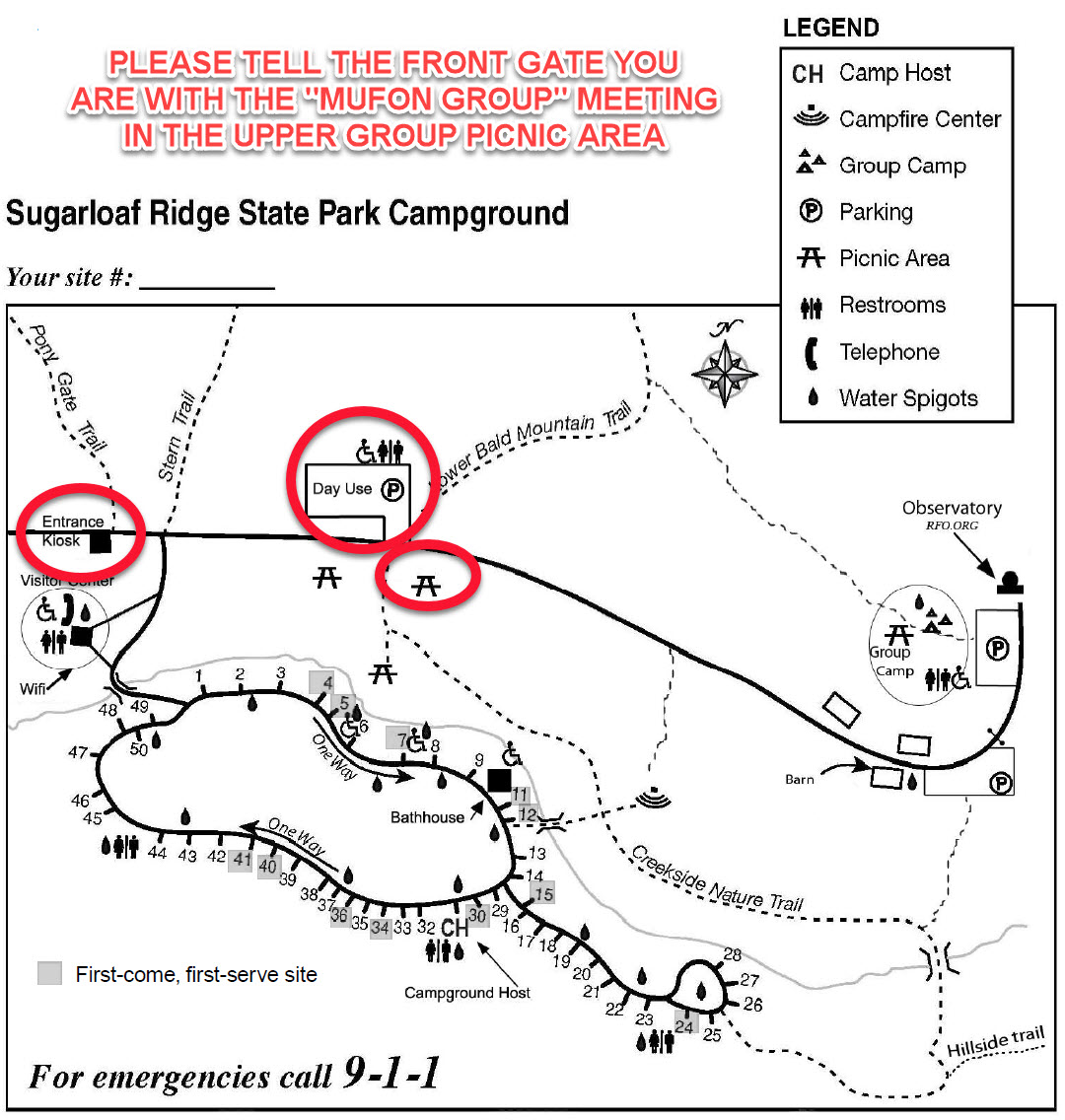 UPPER DAY-USE PICNIC AREA: The upper day use site includes 10 picnic tables, and several small and one large bar-b-ques. The upper day use picnic area is across from the main day use parking lot and has a mix of shade and sun. Some of its tables are accessible. The Reservation is valid from 8 am to 10 pm.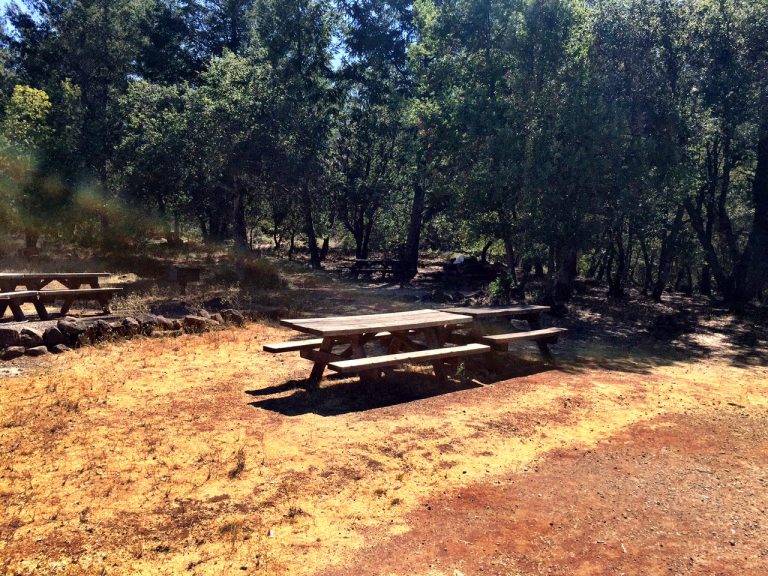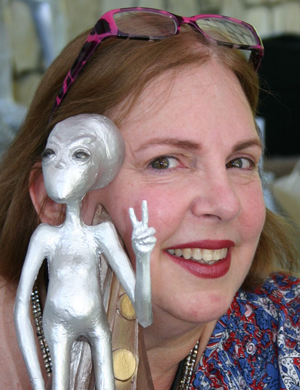 Lorien Fenton
Radio and TV Personailty
Join Lorien on Mondays on Revolution Radio – THE FENTON PERSPECTIVE 5pm PT / 8pm ET.