JOIN US FOR OUR 2021 MEETINGS
IN PERSON MEETING FEE: $10 for non-MUFON Members / $5 for MUFON Members (please bring your MUFON membership card)
MEETING TIME: 2:30pm

During our "GOVERNMENT LOCKUP" of the American Mind Controlled "Pod People", our online price per meeting is based upon membership rates. Current "online" meeting rate is $3.50 per month.

APRIL 3, 2021 - ONLINE MEETING - MATTHEW DEROUEN: "The Quantum Aliens"
ATTENTION: Matthew was unable to deliever his presentation Saturday due to a poor wifi connection. He and I are going to record the "RE DO" presentation FRIDAY NIGHT, April 9, at 7:30pm PT.
Matthew would like a LIVE audience. So, if you didn't purchase a ticket before, you can now. Those who did purchase your April 3rd ticket, you'll receive an email with a link to the "RE DO" presentation.
IMPORTANT: Purchase your ticket by 6:45pm PT.
If you purchase after the cut-off time, you will have to wait for the replay to be posted to view. I manually send all links – they are not automatically generated by ZOOM.

PURCHASE YOUR TICKET BELOW.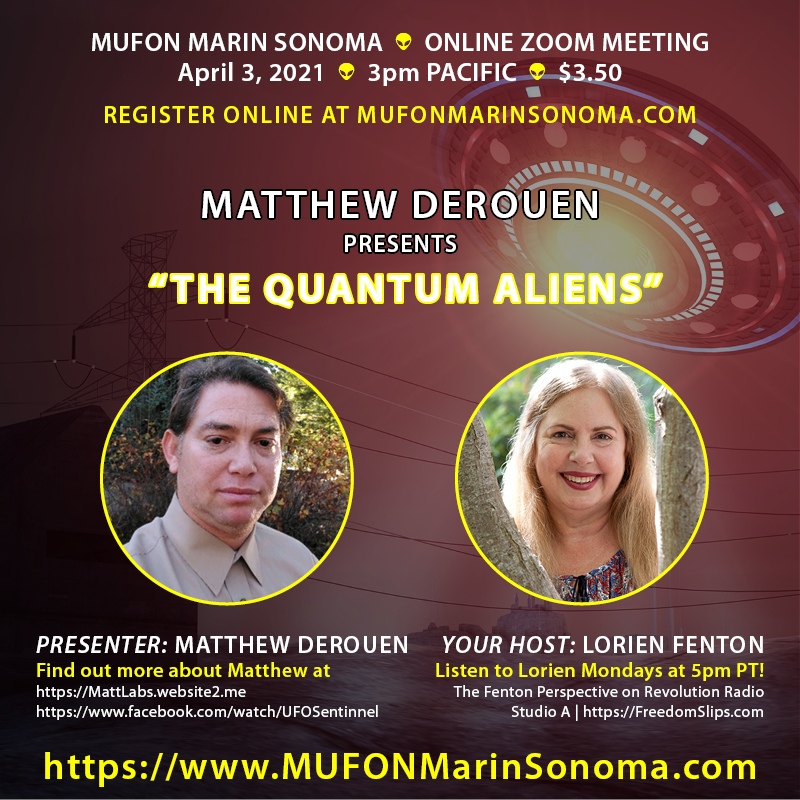 Matthew will present on the following topics and give us an update on his continual contact with a variety of "Aliens" visitors.
Beyond space X technology. Why go to mars when you have Aliens for free? How the space program is an obsolete distraction.
Preventing agressive abductions: Meeting new species halfway, the Dorothy technique: the Nexus Foundation
Making otherworld laws conform to Congressional proposals and vice versa.
Mapping the destruction of the Billionaire economy with new Alien tech.
"Imposterizing" — how aliens hide their origin to average citizens and what you can do to stop it
Quantum biology: new breakthroughs achieved as we predicted last year
Discovery of an Alien Cajun: how we made contact and have developed real communication with real aliens right now.
***************************************************************
MATTHEW DEROUEN was born in New Iberia, Louisiana. He is a USL gradratuate in Economics and Broadcast, Peninsula Law school, low level software engineer, a Technology Consultant, owner of Galactix Studios, and Matlabs Technologies. Successful tech venture participation:
Getthere.com, the first online travel booking service.
Brience XSLT transformation server, Visto technical writer.
GET: Green Energy Technologies, bioseed to fuel think-tank.
Consultant to Private Mining Ventures in Myanmar.
Consultant to global food distribution technology firm in Australia and coffee cryptokey-based exchange.
Real estate investment and development.
Currently developing acoustic technology for Stratagracci 1, new form of cellphone, and security software for Matlabs.
And, he is a contactee…
Visit: MattLabs.website2.me
FRIDAY, April 9, 2021
7:30pm PACIFIC ~ $3.50
PURCHASE YOUR ZOOM TICKET BY 6:45pm PT
TO RECEIVE YOUR LINK TO THE LIVE ZOOM PRESENTATION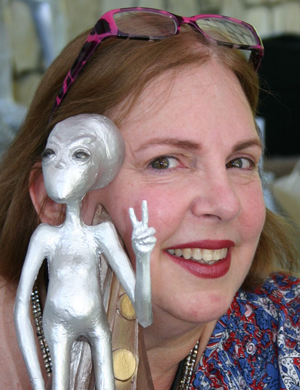 Lorien Fenton
Radio and TV Personailty
Join Lorien on Mondays on Revolution Radio – THE FENTON PERSPECTIVE 5pm PT / 8pm ET.