JOIN US FOR OUR NEXT MEETING
MAY 5, 2018 - ANNUAL CONSPIRACY MEETING with ROBERT GUFFEY: "Chameleo - A True Story of Invisible Spies . . ." (via Skype)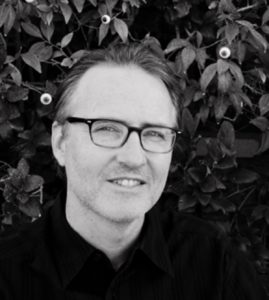 Robert Guffey is the author of Chameleo a lecturer in the Department of English at California State University – Long Beach. A graduate of the famed Clarion Writers Workshop in Seattle, he is the author of a collection of novellas entitled Spies & Saucers (PS Publishing, 2014).
His first book of nonfiction, Cryptoscatology: Conspiracy Theory as Art Form, was published in 2012. He's written stories and articles for numerous magazines and anthologies, among them Fortean Times, Mysteries, Nameless Magazine, New Dawn, The New York Review of Science Fiction, Paranoia, The Third Alternative, and Video Watchdog Magazine.
Chameleo: A Strange but True Story of Invisible Spies, Heroin Addiction, and Homeland Security

by Robert Guffey
A mesmerizing mix of Charles Bukowski, Hunter S. Thompson, and Philip K. Dick, Chameleo is a true account of what happened in a seedy Southern California town when an enthusiastic and unrepentant heroin addict named Dion Fuller sheltered a U.S. Navy sailor who'd stolen night vision goggles and perhaps a few top secret files from a nearby U.S. Marine Corps base.
Dion found himself arrested (under the ostensible auspices of The Patriot Act) for conspiring with international terrorists to smuggle Top Secret military equipment out of Camp Pendleton. The fact that Dion had absolutely nothing to do with international terrorists, smuggling, Top Secret military equipment, or Camp Pendleton didn't seem to bother the military. He was released from jail after a six-day-long Abu-Ghraib-style interrogation.
Subsequently, he believed himself under intense government scrutiny — and, he suspected, the subject of bizarre experimentation involving "cloaking"— electro-optical camouflage so extreme it renders observers practically invisible from a distance of some meters — by the Department of Homeland Security.
Hallucination? Perhaps — except Robert Guffey, an English teacher and Dion's friend, tracked down and interviewed one of the scientists behind the project code named "Chameleo," experimental technology which appears to have been stolen by the U.S. Department of Defense and deployed on American soil. More shocking still, Guffey discovered that the DoD has been experimenting with its newest technologies on a number of American citizens.
JULY 14 & 15, 2018 - "Annual MUFON Field Trip" - TBA
AUGUST 4, 2018 - MELINDA LESLIE: Two Presentations on "Milabs" & "Disclosure"
NO MEETING SEPTEMBER 1, 2018
NOVEMBER 3, 2018 - KOSTA MAKREAS & HOLLIS POLK: "The People's Disclosure Movement" and "Global CE-5 Initiative"
KOSTA MAKREAS will present information on the "The People's Disclosure Movement" and the "Global CE-5 Initiative" – defining their missions and why he created them. PLUS, he and his partner will tell of their Shasta Contact Experiences and personal ET contact stories.
Kosta Makreas is the founder of ETLetsTalk.com, "The People's Disclosure Movement", and the "Global CE-5 Initiative". Kosta is an international net-worker and creative artist working on behalf of right relations between all lifeforms. He was born in Ft. Wayne, IN in 1953.
In 1977 he earned a B.A. in Computer Science from Indiana University. He has been a successful software consultant in the Silicon Valley for almost 4 decades.
But most importantly Kosta has been a dedicated spiritual activist since his teenage years. As a young man Kosta became fascinated with the mysteries of the Universe – teaching himself astrology, meditation, astronomy and reading widely on extraterrestrial UFOs, comparative religion, science fiction, spirituality, Atlantis, and many other metaphysical topics.
His current passion and mission is the web site ETLetsTalk.com and the ETLetsTalk community which has 11,000 members in more than 100 countries. AT ETLetsTalk.com he teaches members how to successfully communicate with loving ET spiritual intelligence. Members can also discover other members on the global community map who can join them. Kosta is creating and nurturing a global citizens movement which contacts many benevolent Star civilizations currently visiting the Earth. This movement seeks to empower individuals and groups to interact with these ET Beings and to co-create with them a positive planetary transformation – a New Earth of peace, free energy, abundance, and justice.
Kosta believes that we are living in a unique, challenging, and wonderful point in history as we transition to a new mode of enlightened and spiritual living where planetary peace reigns between Humanity and all life forms on and off Earth.
DECEMBER 1, 2018 - "Annual MUFON UFO X-Mas Potluck Party & GREEN ALIEN Gfit Exchange"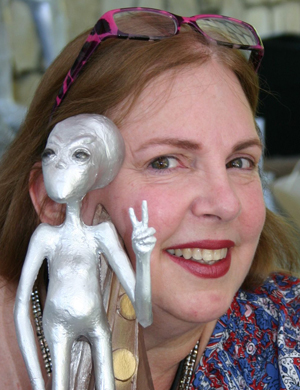 Lorien Fenton
Radio and TV Personailty
Listen to Lorien on Inception Radio Network on Wednesday nights for her CALIFORNIA MUFON RADIO SHOW. And catch her on Mondays on Revolution Radio for THE FENTON PERSPECTIVE and on KCOR for her new show The Fenton Files.