JOIN US FOR OUR NEXT MEETING
APRIL 6, 2019 - "CROP CIRCLE Phenomenon & The Top Ten UFO Cases - facts you may not know!" with JEAN BROIDA
LightWorker111 is the pseudonym used by author and conspiracy theorist Jean Broida, MSCIS, who has written hundreds of published articles on wide-ranging subjects, from politics to health, finance, technology, climate, the paranormal – and more. A professional background and degrees in Education, Psychology, and Software Development Project Management give Jean a unique perspective on the world around us as she connects the dots to reveal hidden truths in the world around us.
She is an on-air personality who has been featured on "The Fenton Perspective" and other paranormal radio shows, and is a regular panelist on the monthly Paralogian Report. Jean writes 3,000 words a day for several online publications and is the proud author of "UNKNOWN OBJECTS: The Top Ten U.S. UFO Cases" on Amazon. Please visit her cyberforum and SHAREspace at www.LightWork111.com.
Jean will discuss her extensive research into the world-wide Crop Circle phenomenon and will lead us all on a sensorial Vision Quest.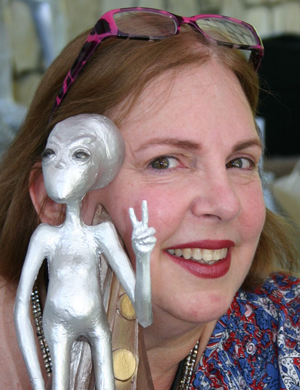 Lorien Fenton
Radio and TV Personailty
4 HOURS OF LIVE BROADCASTING! Listen to Lorien on Mondays on Revolution Radio – THE FENTON PERSPECTIVE at 5pm PT; and on KCOR on her new show The Fenton Files – at 8pm PT.