JOIN US FOR OUR NEXT MEETING
JUNE 2, 2018 - SEAN & SARAH BARTOK (via Skype)
"FLASHBACKS: An Artist's Memoir of Alien Abduction, Native Spirits, and Enlightenment"
with SEAN AND SARAH BARTOK
(via Skype)
Sean Bartok was abducted when he was young, but did not realize it until he was 43 years old. He then knew he had abducted not once, but many times in his life. Sean will be talking about his, his wife's and his children's numerous experiences with aliens, Native American spirits, and entities from other dimensions.
In 1984, Sean took photographs of UFO circular beam-down tracks in the snow next to his house. These detailed photographs are evidence of one of his abductions, and show: alien and his footprints at the center of the beam-down circle; anti-gravity properties; track rotation; energy field and possible evidence of the materialization process. The photographs are featured in his book, FLASHBACKS: An Artist's Memoir of Alien Abductions, Native Spirits, and Enlightenment.
After over 30 years of silence, Sean and his wife have decided to come forward and talk about their paranormal experiences.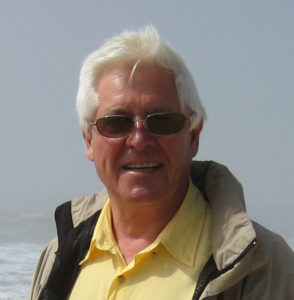 ABOUT THE BARTOK'S
Sean (pictured right) and his wife, Sarah, live in Colorado and have 2 children and 4 grandchildren. Sean has worked as a professional art director for a major U.S. Corporation, and has been a university professor of art, design and design history. He has received numerous national art and design awards for his work.
JULY 14 & 15, 2018 - "Annual MUFON Field Trip" - TBA
AUGUST 4, 2018 - MELINDA LESLIE: Two Presentations on "Milabs" & "Disclosure"
NO MEETING SEPTEMBER 1, 2018
NOVEMBER 3, 2018 - KOSTA MAKREAS & HOLLIS POLK: "The People's Disclosure Movement" and "Global CE-5 Initiative"
KOSTA MAKREAS will present information on the "The People's Disclosure Movement" and the "Global CE-5 Initiative" – defining their missions and why he created them. PLUS, he and his partner will tell of their Shasta Contact Experiences and personal ET contact stories.
Kosta Makreas is the founder of ETLetsTalk.com, "The People's Disclosure Movement", and the "Global CE-5 Initiative". Kosta is an international net-worker and creative artist working on behalf of right relations between all lifeforms. He was born in Ft. Wayne, IN in 1953.
In 1977 he earned a B.A. in Computer Science from Indiana University. He has been a successful software consultant in the Silicon Valley for almost 4 decades.
But most importantly Kosta has been a dedicated spiritual activist since his teenage years. As a young man Kosta became fascinated with the mysteries of the Universe – teaching himself astrology, meditation, astronomy and reading widely on extraterrestrial UFOs, comparative religion, science fiction, spirituality, Atlantis, and many other metaphysical topics.
His current passion and mission is the web site ETLetsTalk.com and the ETLetsTalk community which has 11,000 members in more than 100 countries. AT ETLetsTalk.com he teaches members how to successfully communicate with loving ET spiritual intelligence. Members can also discover other members on the global community map who can join them. Kosta is creating and nurturing a global citizens movement which contacts many benevolent Star civilizations currently visiting the Earth. This movement seeks to empower individuals and groups to interact with these ET Beings and to co-create with them a positive planetary transformation – a New Earth of peace, free energy, abundance, and justice.
Kosta believes that we are living in a unique, challenging, and wonderful point in history as we transition to a new mode of enlightened and spiritual living where planetary peace reigns between Humanity and all life forms on and off Earth.
DECEMBER 1, 2018 - "Annual MUFON UFO X-Mas Potluck Party & GREEN ALIEN Gfit Exchange"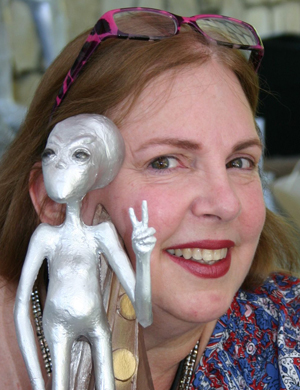 Lorien Fenton
Radio and TV Personailty
Listen to Lorien on Inception Radio Network on Wednesday nights for her CALIFORNIA MUFON RADIO SHOW. And catch her on Mondays on Revolution Radio for THE FENTON PERSPECTIVE and on KCOR for her new show The Fenton Files.