JOIN US FOR OUR NEXT MEETING
MARCH 2, 2019 - TERRY LOVELACE presents "THE INCIDENT AT DEVIL'S DEN"
On a beautiful June evening in 1977 the event that what would become the Incident at Devils Den unfolded.
We arrived at Devils Den State Park in Northwestern Arkansas in the mid afternoon. We intentionally dodged the crowded campgrounds and  sought somewhere remote. A place better suited to photographing wildlife, particularly eagles. We drove deep into an isolated area of the park seeking out an isolated area on high ground. Our gravel road degraded into twin ruts in a dirt trail. We crested the top of small hill that opened onto a field.
Before us was a small meadow of late blooming wildflowers and knee-high grass. For a moment, we were awestruck by the scene. We nodded to one another and celebrated our good fortune. "This was the place!" The expanse of the high plateau was perfect for wildlife photography. We set up our campsite just as twilight enveloped us. The night was crystal clear, and the stars were amazing.
After a late dinner, we settled in for an evening around the campfire. Close to 10:00 PM, our conversation came to a lull. After a few moments I noticed the usual forest sounds of crickets and tree frogs fell quiet. It sounds cliché but it was true. The forest that had been alive with nature sounds earlier in the evening abruptly fell silent. Even the westerly breeze we enjoyed earlier was gone. In the flickering light of our campfire, I noticed the leaves on the trees were still. The best analogy I can offer is that we were no longer looking at forest scenery, we were looking at an image of the scenery. It was more akin to a three-dimensional hologram.
The stillness unnerved me, but my friend Toby assured me our laughter and chatter had quieted them and they'd soon return. I still felt unsettled. Looking to the west, Toby asked, "Hey, were those lights there before?" I turned to look…
THAT IS THE BEGINNING OF A TRULY REMARKABLE JOURNEY FOR TERRY.
Terry will be sharing with our MUFON Group the incident details, and, even more important, what he has learned about being an abductee since he came out with his book and made numerous radio appeared.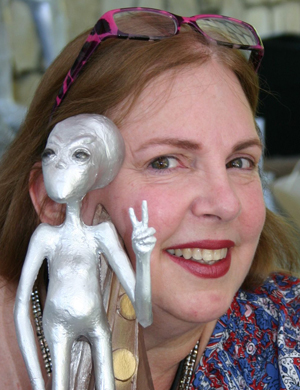 Lorien Fenton
Radio and TV Personailty
4 HOURS OF LIVE BROADCASTING! Listen to Lorien on Mondays on Revolution Radio – THE FENTON PERSPECTIVE at 5pm PT; and on KCOR on her new show The Fenton Files – at 8pm PT.