JOIN US FOR OUR 2023 MEETINGS
IN PERSON MEETING FEE: $10 for non-MUFON Members / $5 for MUFON Members (please bring your MUFON membership card)
SPECIAL EVENTS ARE HIGHER FEES: Read ALL meeting Information carefully
MEETING TIME: 3pm – 5pm
PETALUMA COMMUNITY CENTER (NOT the Petaluma Senior Center)

2023 MEETINGS
FEBRUARY 4, 2023 - Samantha Mowat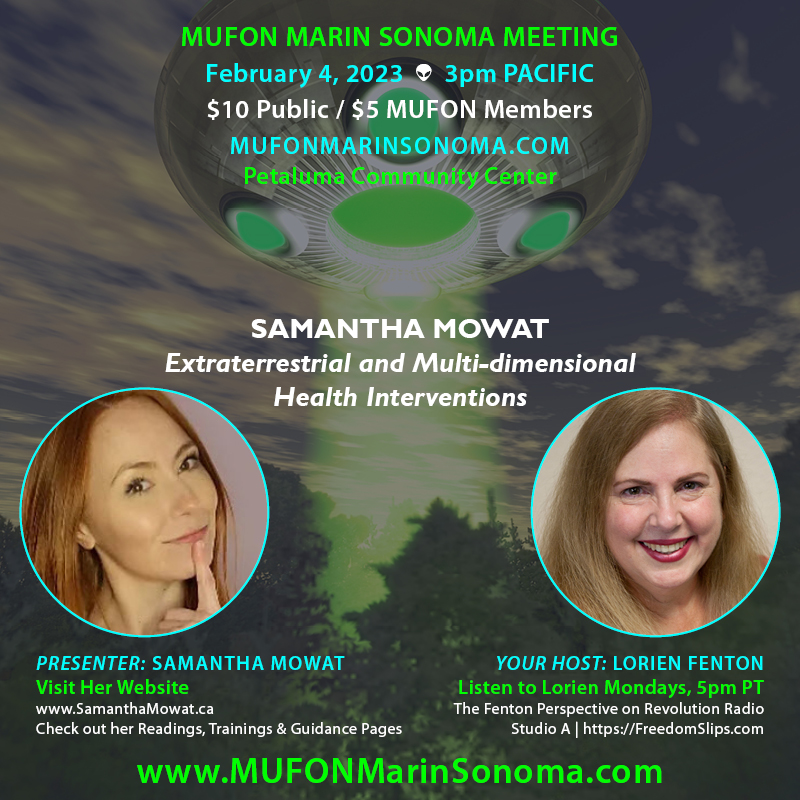 ​SAMANTHA MOWAT
Extraterrestrial and Multi-dimensional Health Interventions

The intervention of Extraterrestrials and Multi-dimensionals occurs for many reasons, the experiencer may be involved in the hybrid program and require modifications for more successful creation of life. The experiencer may be experiencing an illness such as bronchitis or chicken pox, their body may have started developing cancer or be struggling after an injury. No matter what the ailment, the use of advanced technologies, medications and healing modalities are being used by these beings to assist the humans that they have an invested interest in.
Website: www.samanthamowat.ca
YouTube: Samantha Mowat
About Samantha

From infancy Samantha Mowat has been watched over by extraterrestrial and multi-dimensional beings. At numerous points in her life extraterrestrials have intervened by providing healing to her physical form; they have given her guidance by sharing knowledge of future events, they have been her teachers and dear friends.
In childhood the Pleiadians helped Samantha to nurture and develop her psychic abilities, allowing for her to have an in depth understanding about the complexity of energy and the ability to predict the future. Her psychic abilities have allowed for be able to better communicate with and understand the plethora of beings she has encountered, ranging from the Greys and Mantis beings, to Light beings, Angelic beings, Elementals, Pleiadians and Reptilians. With such a diverse range of beings coming to see her, Samantha was placed within several different hybridization programs and given the opportunity to meet many of her hybrid children.
However, as many contactees know, there is a dark side to being born of a bloodline with so much contact. From a young age Samantha has been monitored and abducted by the black budget government organizations; these organizations are commonly referred to as Black Operatives or Black Ops.
In order to assist others in understanding what it is truly like to meet and interact with extraterrestrial and multi-dimensional beings, Samantha has spent the last few years writing a detailed memoir that shares hundreds of the encounters she has experienced from infancy until 2020. At this time, she is nearing completion of her first book.
---

We meet at our new location:
The Petaluma Community Center
320 N. McDowell Blvd, Petaluma, CA 94954
PLEASE NOTE: We do not have to set up and tear down tables and chairs, but we do need to be there on time at 3pm, and out the door as soon as possible, close to 5pm. (We do not want to pay more than the 2 hour contracted fee.)
Please bring exact change, thank you!
JANUARY 7, 2023 - Viviane Chauvet & "UFO YouTube Roundup"
HOUR 1: VIVIANE CHAUVET
Being an Arcturian Hybrid Living as a Human on Earth

Lorien will be interviewing Viviane asking thought provoking questions about her life on earth knowing she is an Arcturian Hybrid. Viviane will surprise you with amazing information about her extraterrestrial family. If we are lucky, Peter Benson (her Husband), will pop in to explain his amazing healing devices!
Visit their websites:
InfiniteHealingFromTheStars.com
Energies of Service
HOUR 2: "UFO YouTube Roundup"
Best YouTube UFO/ET Videos of 2022
Lorien has gatherd a few videos she thinks are noteworthy.
About Viviane

Viviane Chauvet is an interstellar Arcturian being who ascended thousands of years ago. Her Soul Avatar Essence has returned in a projected holographic form that contains biofeedback. Viviane and her husband Peter, sacred mission is to oversee the future timeline currently emerging on the planet. Viviane is an emissary and clear conduit for a delegation of enlightened and spiritually advanced intergalactic civilizations. As a team they assist humanity in repairing the mind, body, and spirit to reach a state of wholeness; and encourage everyone to embrace their Divine Grace and ascend to their original Universal Time Matrix.
Originally from Canada, Viviane is internationally recognized for her work as an advanced Arcturian hybrid avatar in a human projected form. Viviane's healing practice and teachings inspire people to live in Universal Consciousness as sovereign Divine Beings. She specializes in multidimensional frequency healing, conscious channeling, soul matrix healing, and holographic body template upgrade. In 2013, Viviane launched her company "Infinite Healing from the Stars" and did thousands of healing sessions with clients worldwide. In 2022, Viviane joined the W.I.S.H. Alliance as an Ambassador and Emissary. She also serves as an emissary for the Intergalactic Councils and other star delegations.
---

We meet at our new location:
The Petaluma Community Center
320 N. McDowell Blvd, Petaluma, CA 94954
PLEASE NOTE: We do not have to set up and tear down tables and chairs, but we do need to be there on time at 3pm, and out the door as soon as possible, close to 5pm. (We do not want to pay more than the 2 hour contracted fee.)
Please bring exact change, thank you!
DECEMBER 3, 2022 - 12th Annual MUFON UFO Holiday Potluck Party & "Green Alien" Gfit Exchange
POTLUCK DINNER STARTS AT 6pm

Everyone brings food to share and a "gift" – ALWAYS FUN!
TICKETS: $16.50
CLUBHOUSE – Cottages of Petaluma
576 N. McDowell Blvd.
Petaluma, CA 94954
"Sign up sheet" to bring a "side dish"

HERE
PLEASE NOTE:
All food needs to be cooked and ready to eat. Please bring serving utensils and a way to transport your dirty dishes home. (The kitchen is not available.)
If there are no "dish" slots left to sign up for, please email Lorien – lorien@mufonmarinsonoma.com. She'll let you know what food is still needed.
Lorien will provide:
Turkey
Vegetarian "Turkey Loaf"
Cornbread & Regular Stuffing
Pumpkin Pies
Organic Coffee / Hot Water for Tea
Please bring your own drinks and tea bags  if not a coffee drinker.
'Green Alien' Gift Exchange!
YES! The wild, and now infamous, Green Alien Gift Exchange is happening! Please bring a used gift that falls into the categories of: Aliens, UFO's, Consciousness, Conspiracy, Technology, etc. Please wrap your gift so as to camouflage it, so the person who's picking the gift has a hard time figuring out what it might be.
EVENING SCHEDULE:
6:00pm – Dinner Begins… Sign up to bring a Dish to Share ABOVE
7:00pm – FEATURED PRESENTER 1: Chuck Paloka

7:30pm – Dessert
8:00pm – FEATURED PRESENTER 2: TBA (30 mins.)

8:30pm – "Green Alien" Gift Exchange
PURCHASE YOUR TICKETS NOW SO LORIEN CAN BUY THE TURKEY LISTED BELOW

Sorry, but there are currently no tickets for sale. Please try again later.
Willie Bird Smoked Turkey – $91.45 plus Tax (over $10 more than last year)
NOVEMBER 5, 2022 | MARY EDWARDS - LIFE ON EARTH: My Human & ET Families
MEETING THIS MONTH AT
ROUNDTABLE PIZZA
227 S. McDowell Blvd.
Petaluma, CA 94954
(near Staples)
Mary will tell us all about her human and ET families! She promises and interesting presentation recounting her contact with ET and her Star Children.
About MARY EDWARDS

Mary Edwards is an artist and interior designer who creates happier and healthier environments. She helped design the interiors for International Space Station with NASA. her father was a rocket scientist who worked with NASA and the government designing rockets with Dr. Wernher Von Braun. Mary teaches art to kids and Mental Health professionals.
Barbara Lamb, pioneering UFO community Hypnotherapist, and Mary have written a book, Real Adventures of ET Friends in Space, which helps children learn about ET visitation. Mary was taken on a spacecraft starting at age five and has 128 hybrid children. Her mission – as told to her by ET –  is to create high vibration art, spaces and presentations to inspire and prepare others for contact.
---
JUST THIS MONTH – WE ARE MEETING AT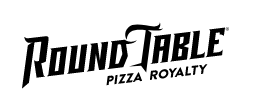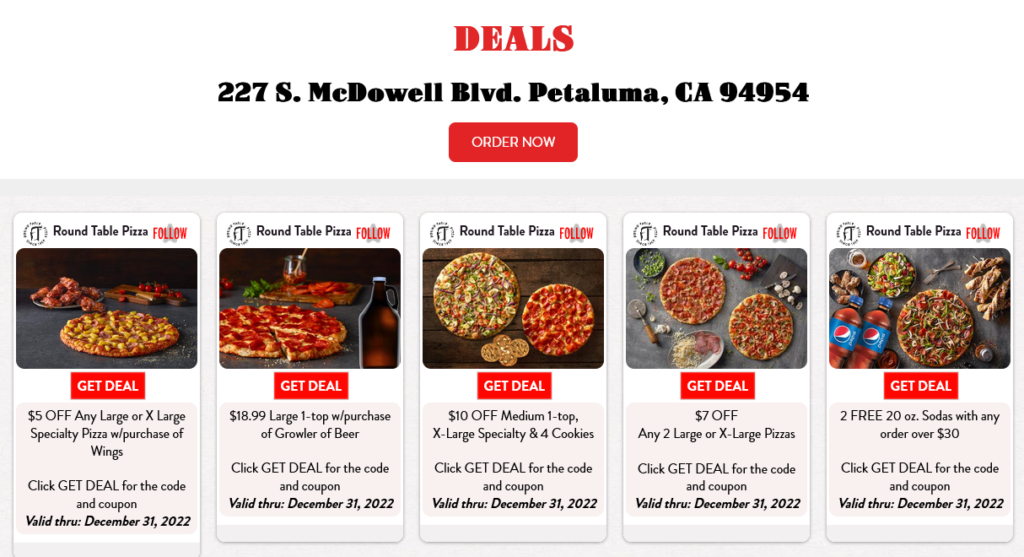 OCTOBER 1, 2022 - DAMON ISE: JFK JR. - "Murder of The Prince"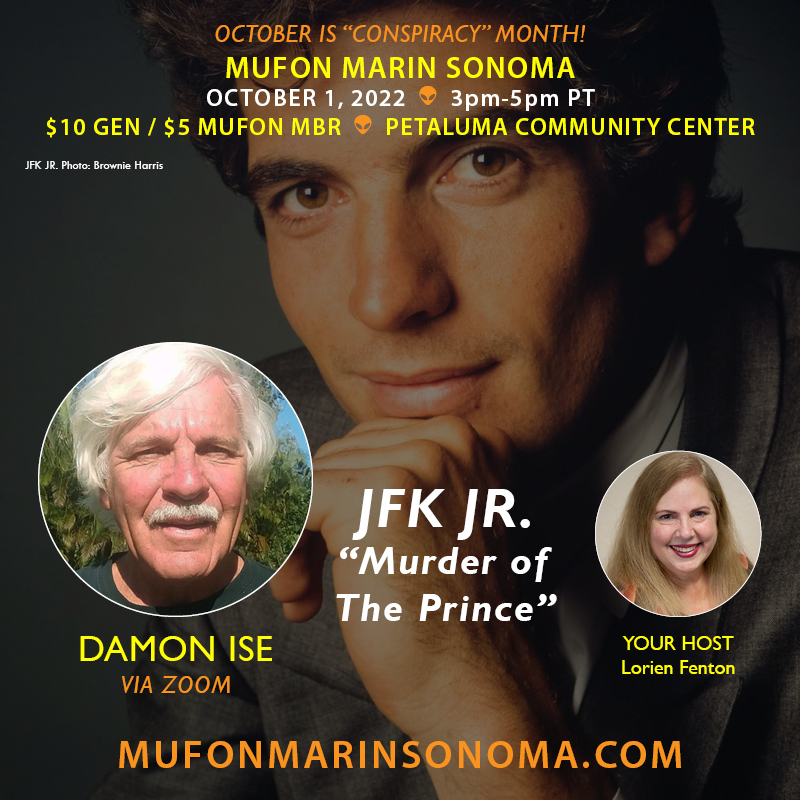 JFK JR. – "Murder of The Prince"

Damon has created a PowerPoint presentation that will leave you with no doubt that John Jr. was murdered. Eyewitness accounts, flight logs, graphs, charts and more… the only thing missing from this thought provoking presentation is the indictment.
About Damon's Aviation Career (and how it relates to JFK Jr.'s Death)

Damon's aviation interests and career have spanned more than 40 years. After earning his private pilot's rating in July of 1977, Damon went on to receive the ratings of commercial pilot, instrument pilot, and flight instructor. Southern New England based, many of his training flights were flown to Martha's Vineyard and Nantucket under both visual and instrument flight conditions.
He worked for the State of Rhode Island as an airport attendant and traffic advisor at North Central State Airport.
He was a founding Father of the Quonset Air Museum and served as the organization's president for several years.
In 1994 Damon led the salvage team who recovered A Us Navy F6F Hellcat off the waters of Martha's Vineyard.
As a local aviation professional Damon was solicited by the Providence journal shortly after the terrible death of John Kennedy jr, his wife Carolyn and her sister Lauren. Having no reason to doubt the official story Damon lent a "boiler plate" opinion of the circumstances surrounding the so-called accident. Just casual remarks with no real research. His opinion without study of the facts.
Twelve years later, while digging thru a closet, Damon found the faded yellow Sunday edition of The Providence Journal. Damon re-read the quotes he made that appeared on the front page. It was recalling the "accident" from that article which spurred his research; he began questioning the accuracy of the original "Official Story" regarding John's death. He is still uncovering the roots of deception fed to the world public regarding the demise of a skilled pilot and truly dynamic and charismatic individual, John Kennedy Jr.
John, his wife and sister-in-law – did not die by accident.
---

We meet at our new location:
The Petaluma Community Center
320 N. McDowell Blvd, Petaluma, CA 94954
PLEASE NOTE: We do not have to set up and tear down tables and chairs, but we do need to be there on time at 3pm, and out the door as soon as possible, close to 5pm. (We do not want to pay more than the 2 hour contracted fee.)
Please bring exact change, thank you!
SEPTEMBER 3, 2022 - DAVID ADAIR: "Questions and Answers: Ask David Anything!"
About DAVID ADAIR

David is known as the "Rocket Man," As a child he received advanced scientific inventions in dreams. Dr. Stephen Hawking, on meeting David, allegedly told him that he also got his ideas while dreaming.
David shares his ordeal of being forcibly taken to Nevada's Groom Lake (Area 51) as a teenager, along with his latest rocket prototype. He describes the alien engine he examined under the base and how he kept his knowledge and rocket from being used by the US government! Is David a crazed UFO whistleblower that fancies himself a rocket scientist, or was he involved with the reverse engineering of an alien spacecraft? Or is there more to his story than meets the eye?
David Adair is an internationally recognized expert in space technology spinoff applications for industry and commercial use. At age 11, he built his first of hundreds of rockets, which he designed and tested. At age 17, he won "The Most Outstanding in the Field of Engineering Services" award from the US Air Force. Currently, David has his own research company, Intersect Inc. He continues to work and speak on advanced technology and sustainable energy for the whole planet.
---

NEW LOCATION: The Petaluma Community Center
320 N. McDowell Blvd, Petaluma, CA 94954
PLEASE NOTE: We do not have to set up and tear down tables and chairs, but we do need to be there on time at 3pm, and out the door as soon as possible, close to 5pm. (We do not want to pay more than the 2 hour contracted fee.)
Please pay at the door. Please have exact change.
FEE: $10 for General Admission / $5 for MUFON International Members (please bring your membership card)
LIVE IN PERSON!!! AUGUST 6, 2022: JOHN RHODES will be with us!
Reptilian Humanoids, Underground Bases and the Men in Black Who Protect Such Secrets
You may hear about reptilian aliens and wonder if humanity has gone totally crazy, but there are actually real, scientific projections that suggest such a race of beings could exist!  John Rhodes presents his reptilian-humanoid theory and provides an overview of early investigations that led ufology and conspiracy investigators on a journey of exploration into previously uncharted realms of UFO and cryptozoological research.
He will also discuss the elusive Men In Black, who John reports to have encountered twice in his 30 plus years of investigating mysteries. These professional "scare artists" show up to silence UFO eyewitnesses, to intimidate certain researchers, and to control the flow of information related to Earth's mysterious underworld and what is possibly hiding within it.  Join John Rhodes, the CryptoHunter, on a voyage of enlightenment through the looking glass and beyond as he shares insights into these and other fascinating and mind-bending realities.
About John

For over thirty years, CryptoHunter John Rhodes, the award winning UFO phenomena investigator, cryptozoologist, and pioneer of Reptilian-Humanoid studies, has informed and entertained audiences around the world with his unique insight into the mysteries of our planet, and beyond. His research into UFO's, Terrestrial Cryptids, Underground Bases and the Men In Black has been featured on numerous television shows such as Unsolved Mysteries, UFO Hunters, the Jesse Ventura Show, Ancient Aliens, Animal-X, Monster Quest, The Unexplained Files, and more.
John has presented his research findings at many UFO and phenomena conferences in the United States and internationally. He has been a guest on Coast-to-Coast AM, and other recognizable radio and internet broadcast shows. He is also known for assisting law enforcement agencies investigating Cattle Mutilations. His research presentations on Secret Underground Bases and Advanced Tunneling Technologies continue to fascinate audiences, giving them a clear view into the secret government and "alien" underworlds that exist beneath our very feet.
---



We are meeting at our new location: The Petaluma Community Center –

320 N. McDowell Blvd, Petaluma, CA 94954
PLEASE NOTE: We do not have to set up and tear down tables and chairs, but we do need to be there on time at 3pm, and out the door as soon as possible, close to 5pm. (We do not want to pay more than the 2 hour contracted fee.)
Since we are all paying for John's hotel and other expenses, there is no MUFON membership discount this month.
TICKETS: $11
JULY 16th - 8:30pm UFO SKYWATCH at Sugarloaf State Park & DINNER 5:30pm Lumberjack's
ALL YOU HAVE TO DO IS SHOW UP AND PAY FOR PARKING. THE FEE IS "PER CAR".
Be sure to have $10 CASH for the Park Parking Fee – $8 CASH if you are a SENIOR.
Don't forget to bring a "folding chair" and a coat just in case it gets cold.
ALSO
Join us at 5:30pm for DINNER at LUMBERJACK'S in Petaluma.
We will leave Lumberjack's at 7:30pm for the Park.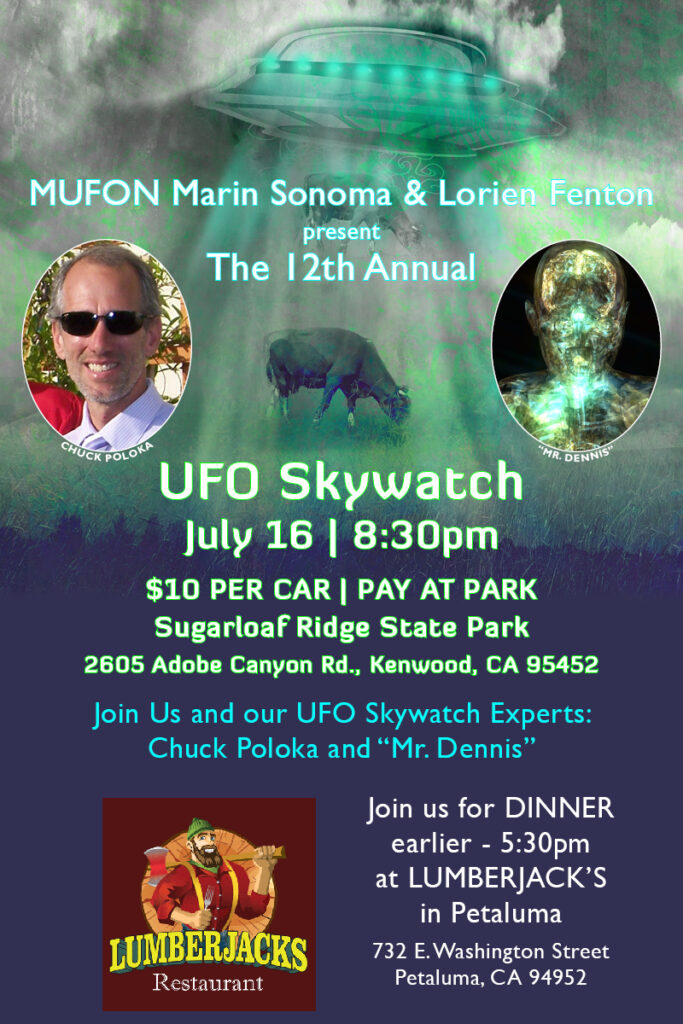 June 4, 2022: MIESHA JOHNSTON - "My Galactic Missions"
PRESENTATION
MY GALACTIC MISSIONS
My Galactic family have been with me my whole life and have put me on my Missions' path. They encouraged me to start my first ET Experiencer Group back in the 1991. They encouraged me to start a teen group, as well as the first children and their parents support group. They want us to connect with them and communicate with them – as all contactees know. In my presentation I will travel through my life of contact and show slides of the hybrids I have met and know many as family. I will also show visuals of the Galactic's.
********************
MIESHA JOHNSTON is a Certified Hypnotherapist specializing in Multidimensional ET Experiencer Regressions, Past Life Regression and Trauma Recovery Hypnosis. She offers Galactic Multi-Dimensional Sessions and is a trance channel who speaks many Galactic Light Languages.  She facilitates virtual Experiencer support groups three times a week on Zoom and in her home once a month.
Miesha a third-generation experiencer having contact with 8 different types of extraterrestrials. She is also part of the MK Ultra experimentation and a MILAB abductee. Her most complex MK Utra was where she expereinced of 8 months of missing time; including a marriage she had no memory of.  She shares her story of her encounters in her books, and has been a guest on many Radio shows since 1999, She has been on European, Canadian and Russian TV and will soon appear on the cable TV on Book of Secrets, on History Channel.
In 1991, she founded the STAR FAMILY CONTACTEE GROUPS and she started the first teen and children's groups in the United States in 1991. She was director of U.F.O.C.C.I. In the 1990s she was a working group member of Steven Greer's C.S.E.T.I. In Las Vegas, Nevada.
She is owner operator of Vector 5 UFO Tours of Las Vegas and has been leading tours in Las Vegas, Hawaii and California for over 3 years, with military grade Gen 3-night vision goggles and high-powered lazars. She has a weekly radio show Saturday on KCOR Digital Radio.
She author of Covert Abduction: Military Harassment, Surveillance, Interrogation, and Mind Control and They Weren't Butterflies: A Monarch Survivor's Story, available on her website andAmazon.com. Her Galactic Planetary Genealogy book, with chart. is also available on her website.  She co-authored, with Tana Newberry, the Experiencer Oracle Deck and she created the ET Experiencer Unimaginable Oracle Deck and companion book, also vailable on her site and www.Amazon.com.
For more information about Miesha visit her websites: www.StarseedAwakening.org and  http://www.ufonightwatch.com/
TO PURCHASE YOUR ZOOM SEAT: https://us02web.zoom.us/webinar/register/WN_zkFSFV4YS_qNjujhwpuTOg
MAY 7, 2022 - NO MEETING - JOIN US AT THE "UFO PANEL" During New Living Expo
Join us at 5pm Saturday, May 7th, in Room 3 at New living Expo! https://NewLivingExpo.com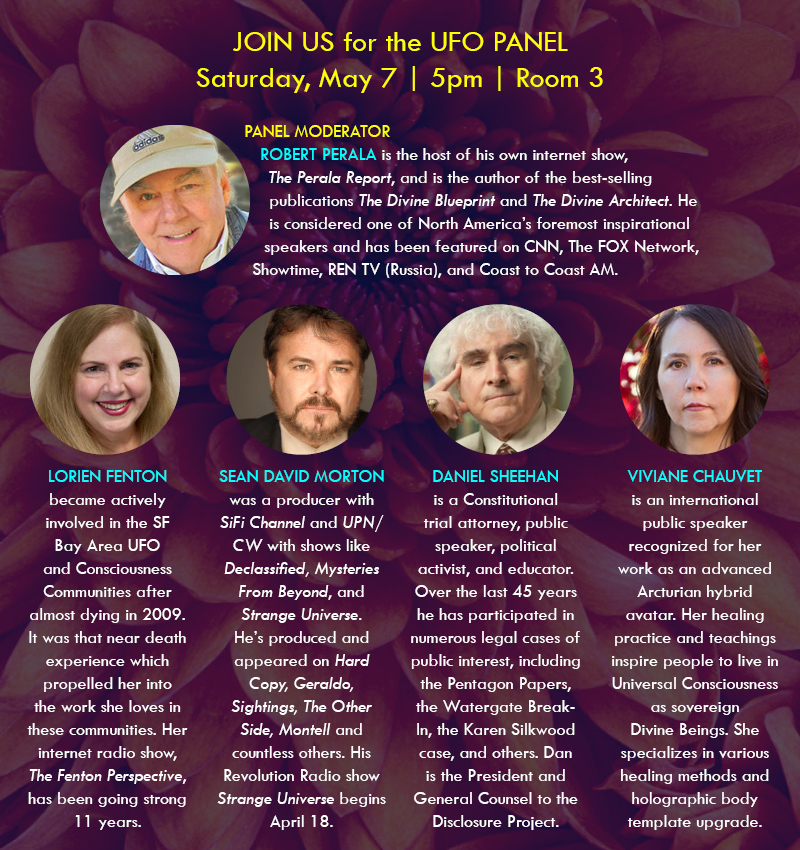 If you can't make the Expo on Saturday and plan to take your Mom on an Expo shopping spree Sunday, stick around for Robert Perala and Lorien Fenton's presentations.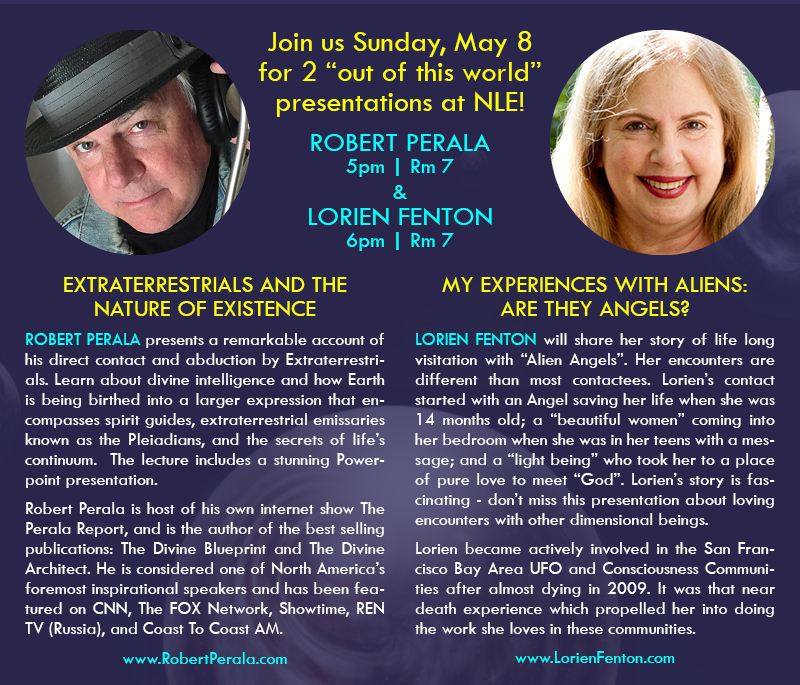 APRIL 2, 2022: SEV TOK - "My Therapist is an Alien"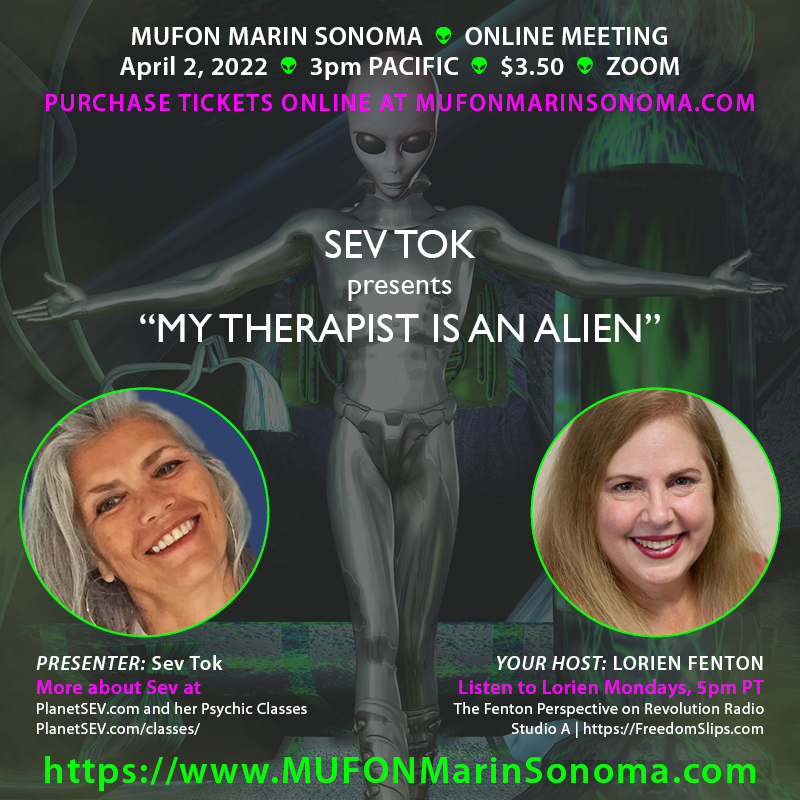 For our MUFON Meeting this month Sev describes her lifetime of ET Contact and the Alien messages about our Quantum Reality, the Hybridization Program, PSI Abilities, DNA Activation, and Conscious Self-Realization. She shares her journey from fearing the Aliens to embracing them and the positive changes manifested from her transformation.
SEV TOK is a Speaker, Author, Experiencer Advocate, Spiritual Counselor, and a life-long Experiencer. Originally from Istanbul, Turkey, Sev emigrated to the US as a little girl, not knowing English as she started first grade, and earned a Bachelor of Science degree in Biology from Loyola University.
Sev's ET contact started at age 10, which she kept secret, until 2017 when Greys burned red X-marks into her back. This ET contact prompted her to "come out" in 2018 as a Speaker at AlienCon and through her book, You Have The Right To Talk To Aliens, endorsed by renowned UFO Researcher, Kathleen Marden. She is currently working on her next book, Alien Wisdom.
Sev is featured in the Canadian TV docuseries, Encounter: UFO – Physical Contact, has been interviewed around the world, speaks at conferences, and is honored to be the Master of Ceremonies at MUFON's International Symposium in Denver in July 2022. As a MUFON Field Investigator for North Carolina and as a member of MUFON's Experiencer Resource Team (ERT), Sev helps Experiencers around the world. She also offers guidance to Experiencers through Tell Me Your ET Story on her website, planetsev.com, her monthly newsletter, and her YouTube channel Alien Spirit TV.
For the past 12 years, Sev has been conducting Soul Purpose Sessions, with clients around the world, providing inter-dimensional guidance to activate one's purpose to manifest a fulfilling, successful, and dynamic life aligned with your soul purpose. A planet and star system is named after her in the STAR WARS Galactic System! You can find the Sev Tok Star System and Planet in Wookieepedia. Sev lives on the Inner Banks of North Carolina with her black cats Comet and Three, and her partner George.
TO PURCHASE YOUR ZOOM SEAT: https://us02web.zoom.us/webinar/register/WN_iJbAcTIHRySWuZFckUxXyA
MARCH 5, 2022: NO MEETING - JOIN US AT UFO CON 2022
FEBRUARY 5, 2022 - NO MEETING - LORIEN AT CONSCIOUS LIFE EXPO
JANUARY 1, 2022: JO ANN RICHARDS & YOUTUBE UFO ROUNDUP `21
The FIRST HOUR JO ANN and the SECOND HOUR YOUTUBE ROUNDUP
HOUR 1: JO ANN RICHARDS – Being Part of the Galactic Community
Jo Ann will discuss alien involvement in current events. She will describe one or more species not included in previous talks, based on downloaded information. She will discuss the delay or slowing down of disclosure. She will share messages from the other side about the galactic community and our part in it.

JO ANN RICHARDS
never believed in UFOs, aliens, or faeries as a child. In her 20s, she felt the presence of ghosts. Since the late 90s, she embraced the world of UFOs, aliens, elementals, and magic. Her passion is to teach others about this 'world of wonder.'
Jo Ann is Executive Director of the educational non-profit, Earth Defense Headquarters (www.edhca.org and www.edhq.org). Her husband, Mark Richards, and his father, Ellis Loyd Richards, were involved with top-level military intelligence operations since World War II, many including on-world and off-world contact and battles with various alien species.
She speaks about her knowledge of military operations and secret meetings that both these men were involved with. She shares information about numerous alien species, the secret space fleet, and battles with aliens on- and off-world.
Jo Ann is a native Californian. She has Associate of Arts degrees in film production and Accounting. She is the mother of a successful grown daughter and is the proud grandmother of three. She enjoys reading, needlework, travel, and spending time with the family. She is owned by her three cats. She is an international speaker on the topics of UFOS, extraterrestrials, and military involvement with such topics. Her first book, MIDLIFE MAGIC, was published in May 2021.
HOUR 2: "YouTube 2021 UFO Roundup" – The Best YouTube UFO/ET Videos of 2021

Lorien Fenton will present to you, YouTube Video's that YOU have emailed her, which you think are the best SHORT UFO or ET video's on YouTube this past year.
Thank you everyone!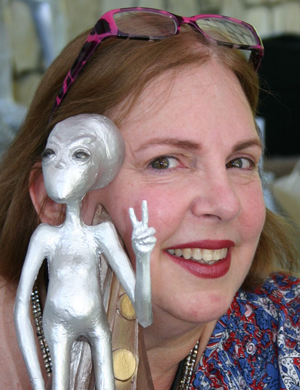 Lorien Fenton
Radio and TV Personailty
Join
Lorien on Mondays on
Revolution Radio
–
THE FENTON PERSPECTIVE
5pm PT / 8pm ET.