JOIN US FOR OUR 2022 MEETINGS
Our current "online" meeting rate is $3.50 per meeting. We are starting our online events at 3PM PACIFIC. LIVE meetings and events are specially priced.

IF WE EVER MEET LIVE IN PERSON AGAIN
IN PERSON MEETING FEE: $10 for non-MUFON Members / $5 for MUFON Members (please bring your MUFON membership card)
MEETING TIME: TBA
MAY 7, 2022 - JOIN US AT THE "UFO PANEL" During New Living Expo
Join us at 5pm Saturday, May 7th, in Room 3 at New living Expo! https://NewLivingExpo.com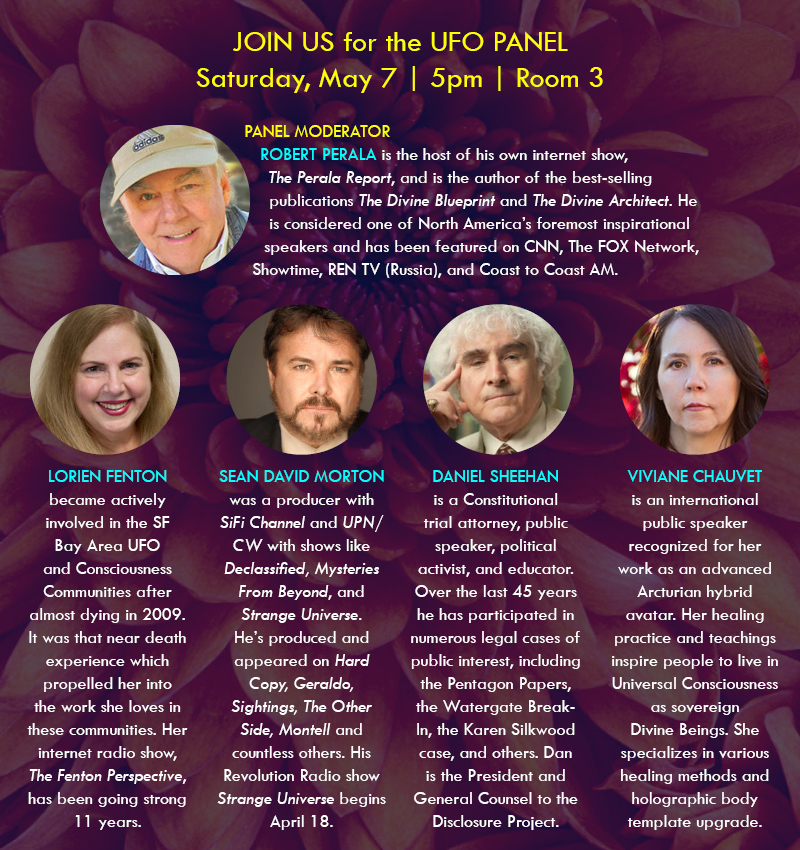 If you can't make the Expo on Saturday and plan to take your Mom on an Expo shopping spree Sunday, stick around for Robert Perala and Lorien Fenton's presentations.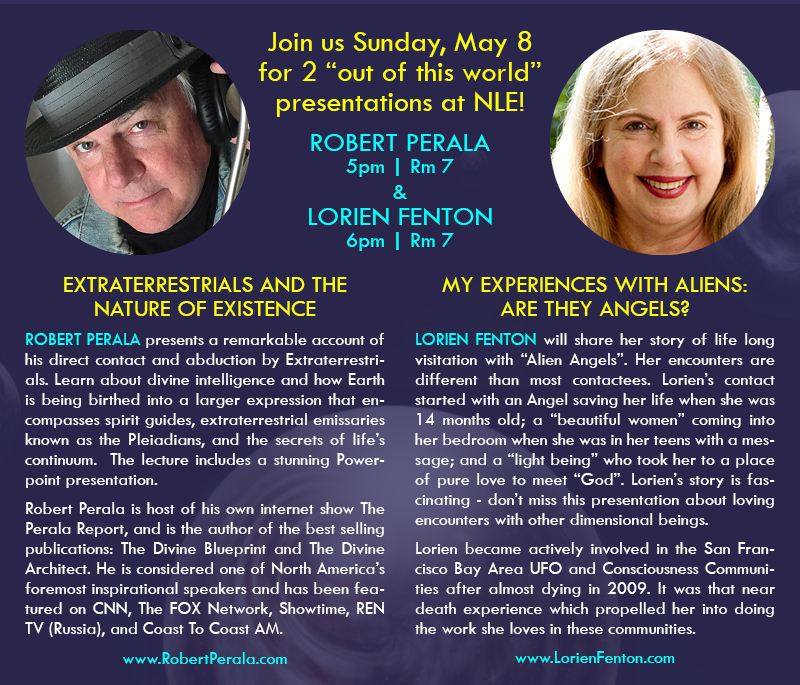 APRIL 2, 2022: SEV TOK - "My Therapist is an Alien"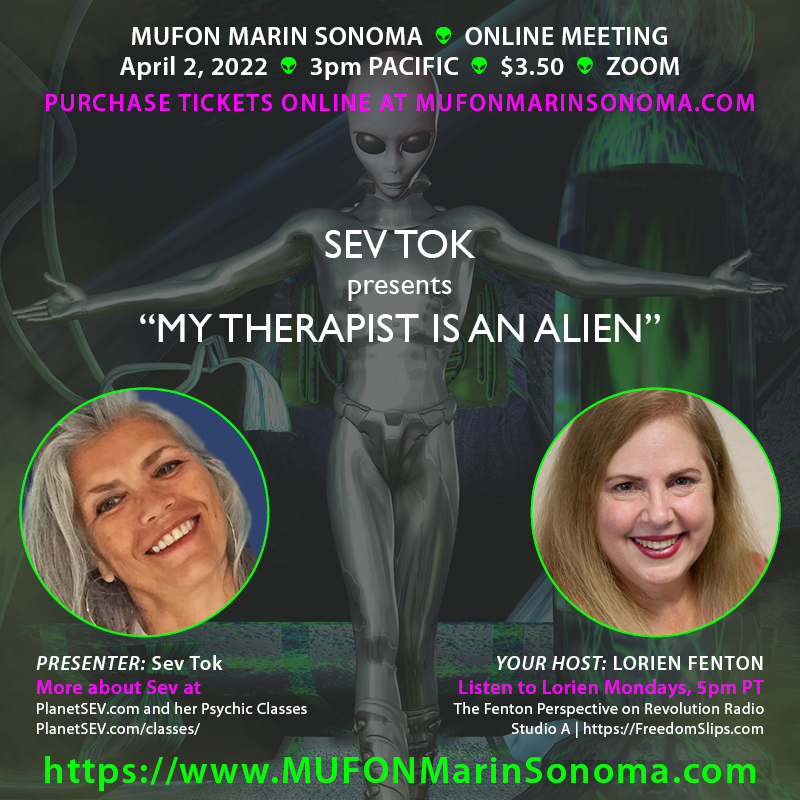 For our MUFON Meeting this month Sev describes her lifetime of ET Contact and the Alien messages about our Quantum Reality, the Hybridization Program, PSI Abilities, DNA Activation, and Conscious Self-Realization. She shares her journey from fearing the Aliens to embracing them and the positive changes manifested from her transformation.
SEV TOK is a Speaker, Author, Experiencer Advocate, Spiritual Counselor, and a life-long Experiencer. Originally from Istanbul, Turkey, Sev emigrated to the US as a little girl, not knowing English as she started first grade, and earned a Bachelor of Science degree in Biology from Loyola University.
Sev's ET contact started at age 10, which she kept secret, until 2017 when Greys burned red X-marks into her back. This ET contact prompted her to "come out" in 2018 as a Speaker at AlienCon and through her book, You Have The Right To Talk To Aliens, endorsed by renowned UFO Researcher, Kathleen Marden. She is currently working on her next book, Alien Wisdom.
Sev is featured in the Canadian TV docuseries, Encounter: UFO – Physical Contact, has been interviewed around the world, speaks at conferences, and is honored to be the Master of Ceremonies at MUFON's International Symposium in Denver in July 2022. As a MUFON Field Investigator for North Carolina and as a member of MUFON's Experiencer Resource Team (ERT), Sev helps Experiencers around the world. She also offers guidance to Experiencers through Tell Me Your ET Story on her website, planetsev.com, her monthly newsletter, and her YouTube channel Alien Spirit TV.
For the past 12 years, Sev has been conducting Soul Purpose Sessions, with clients around the world, providing inter-dimensional guidance to activate one's purpose to manifest a fulfilling, successful, and dynamic life aligned with your soul purpose. A planet and star system is named after her in the STAR WARS Galactic System! You can find the Sev Tok Star System and Planet in Wookieepedia. Sev lives on the Inner Banks of North Carolina with her black cats Comet and Three, and her partner George.
TO PURCHASE YOUR ZOOM SEAT: https://us02web.zoom.us/webinar/register/WN_iJbAcTIHRySWuZFckUxXyA
MARCH 5, 2022: NO MEETING - JOIN US AT UFO CON 2022
FEBRUARY 5, 2022 - NO MEETING - LORIEN AT CONSCIOUS LIFE EXPO
JANUARY 1, 2022: JO ANN RICHARDS & YOUTUBE UFO ROUNDUP `21
The FIRST HOUR JO ANN and the SECOND HOUR YOUTUBE ROUNDUP
HOUR 1: JO ANN RICHARDS – Being Part of the Galactic Community
Jo Ann will discuss alien involvement in current events. She will describe one or more species not included in previous talks, based on downloaded information. She will discuss the delay or slowing down of disclosure. She will share messages from the other side about the galactic community and our part in it.

JO ANN RICHARDS
never believed in UFOs, aliens, or faeries as a child. In her 20s, she felt the presence of ghosts. Since the late 90s, she embraced the world of UFOs, aliens, elementals, and magic. Her passion is to teach others about this 'world of wonder.'
Jo Ann is Executive Director of the educational non-profit, Earth Defense Headquarters (www.edhca.org and www.edhq.org). Her husband, Mark Richards, and his father, Ellis Loyd Richards, were involved with top-level military intelligence operations since World War II, many including on-world and off-world contact and battles with various alien species.
She speaks about her knowledge of military operations and secret meetings that both these men were involved with. She shares information about numerous alien species, the secret space fleet, and battles with aliens on- and off-world.
Jo Ann is a native Californian. She has Associate of Arts degrees in film production and Accounting. She is the mother of a successful grown daughter and is the proud grandmother of three. She enjoys reading, needlework, travel, and spending time with the family. She is owned by her three cats. She is an international speaker on the topics of UFOS, extraterrestrials, and military involvement with such topics. Her first book, MIDLIFE MAGIC, was published in May 2021.
HOUR 2: "YouTube 2021 UFO Roundup" – The Best YouTube UFO/ET Videos of 2021

Lorien Fenton will present to you, YouTube Video's that YOU have emailed her, which you think are the best SHORT UFO or ET video's on YouTube this past year.
Thank you everyone!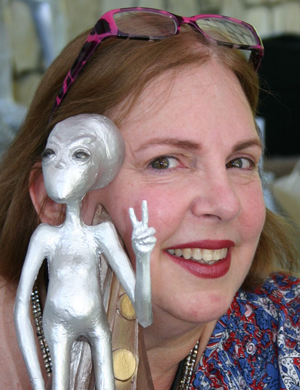 Lorien Fenton
Radio and TV Personailty
Join
Lorien on Mondays on
Revolution Radio
–
THE FENTON PERSPECTIVE
5pm PT / 8pm ET.